Culture Trip — the travel e-commerce brand with content at its core — has developed and launched a customised campaign for Great Western Railway (GWR). Culture Trip has collaborated for this campaign with the7Stars — the UK's largest independent media agency.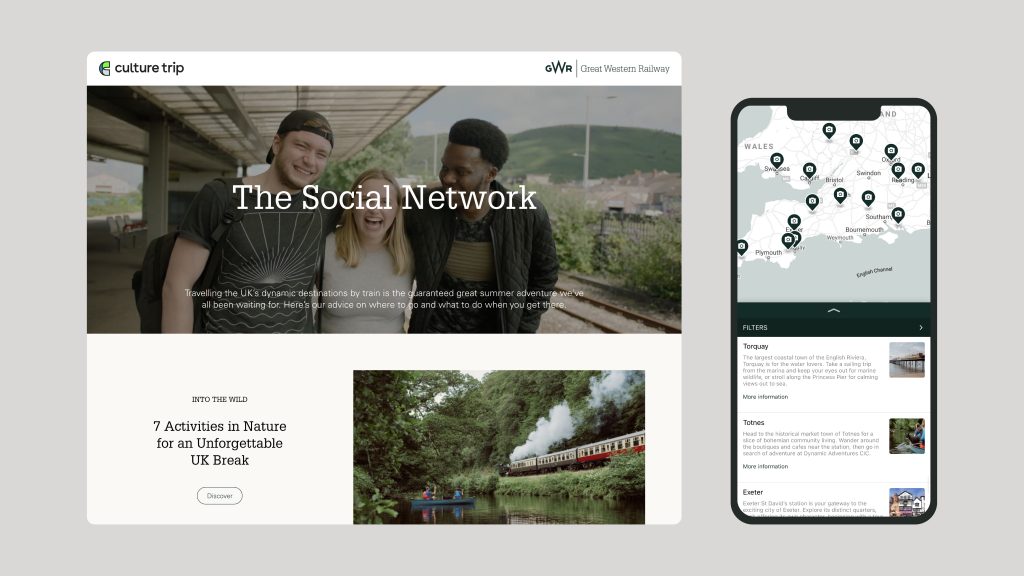 The campaign's goal is to drive brand awareness for GWR amongst Culture Trip's UK audience, inspire them to book a train ticket via GWR.com and to visit key destinations within the rail network. Running until the end of October, the campaign will remind people — after more than a year of travel being restricted across GWR services — of new places to discover and adventures awaiting across the network.
For the campaign to deliver against these specific goals, the Culture Trip Media Sales team has leveraged its key strengths such as its award-winning storytelling capabilities and its strong online channels, trusted by a highly engaged audience.
On the culturetrip.com website, a dedicated GWR branded hub has launched hosting bespoke content including a number of articles with custom photography as well as inspirational, authentic videos featuring real people visiting and sharing their adventures and experiences in the new destination. The hub also features an interactive map plus a collection of places to stay and experiences within the GWR network that have been curated by Culture Trip and can be booked online.
Traffic will be directed to the GWR branded hub via Culture Trip's newsletter, homepage promotions, display ads across the site as well as social media channels including Facebook, Instagram and Twitter.
The content created for the campaign will inspire people with different interests to visit parts of the South West including Cornwall, the Cotswolds and Wales using the train, with articles featuring Magnificent escapes for a memorable family adventure, Perfect places for pooches on the ultimate UK getaway, 7 activities in nature for an unforgettable UK break and Master the art of working from anywhere.
Since 2019, Culture Trip has received more than 30 awards for its unique, inspirational content and its work for advertising clients. Offering a positive, brand-safe environment and customised services, it has become an attractive partner for those looking for bespoke campaigns.
Gauthier Hardy, Senior Regional Marketing Manager at Great Western Railway commented: "Culture Trip has devised  a wonderful campaign for Great Western Railway that inspires people to use the train and visit new places across our network — giving them reasons to travel and to discover more with GWR. Our partnership allows us to reach existing and new audiences with Culture Trip users being known as experience hungry and highly engaged. The bespoke Culture Trip content created for the campaign not only puts a spotlight on the great adventures waiting to be discovered but also educates on train travel and its advantages over other modes of transport, reassuring travellers that they can travel with ease, comfort and confidence."
Rachel Lorenzon, Head of partnerships at the7stars commented: "We're delighted to bring GWR and Culture Trip together on this content partnership. After a year of travel restrictions, this partnership provides a great opportunity to produce rich and engaging content that will help to inspire new adventures that are all easily accessible across the GWR network."
Kate Glover, Culture Trip's VP of Media Sales said: "We are proud and excited to have created a customised campaign for Great Western Railway that really makes the most of what we can offer our partners. Every month, millions of users come to Culture Trip for travel inspiration and many also now come to us to book travel — we offer a single platform that takes customers from inspiration and planning to booking. That means we know what our users are interested in, so when we work with a partner like Great Western Railway, we are able to develop unique tailored solutions to deliver against their specific goals."
Source: Culture Trip