The Metaverse, positioned as a new virtual world free of physical limitations and societal stereotypes, is not yet meeting these ambitions. In fact, 60% of people feel that virtual worlds lack inclusivity, and many are calling for more accessibility. However, the Metaverse is still in its early stages of development, which is why Degree® Deodorant will partner with Decentraland to help shape the standard of inclusivity and representation in the virtual world. Together with Decentraland, Grammy-nominated recording artist Fat Joe (Joseph Antonio Cartagena), and Paralympic Athlete Blake Leeper, the brand will host the Degree® Metathon™ – the world's-first marathon in the Metaverse – which will take place on April 26, 2022 at 6 p.m. EDT and will continue the brand's ongoing fight for increased representation in movement.
As part of the brand's mission to shape a more inclusive world where everyone has the confidence to move more, Degree® partnered with disability experts to better understand and identify the needs of underrepresented movers in the Metaverse. To advocate for these necessary changes, Degree® polled the Decentraland community and found that 98% of landowners support making movement in Decentraland more accessible and inclusive for people with disabilities. Following the Metathon™, the brand will expand on this initial work and partner with additional experts on disability, race, and gender inclusion. Together, they will aim to advocate for solutions and to action inclusive changes that allow everyone to see themselves represented as movers in the Metaverse, such as: adding audio description for people with visual impairments, implementing a non-binary experience when creating an avatar, constructing a variety of body shapes and sizes, and more.
Degree's first step in the Metaverse is its introduction of a more inclusive avatar library, created in partnership with Decentraland. Available for the first time at the Metathon™, these newly developed wearables—such as prostheses, running blades, and a wheelchair—offer greater representation for people with disabilities and enable participants to create avatars representative of their unique identities. The Degree® Metathon™ course will cover 26.2 virtual miles of some of the most iconic scenes of the Vegas City Sports Quarter, Decentraland's largest district. The course will incorporate accessible architecture to reflect a more inclusive landscape, with structures such as ramps for wheelchair users. 
"As a person with disabilities and a professional runner, I am so excited to take part in the Degree® Metathon™," said Eight-Time Paralympic Medalist Blake Leeper. "Showing people in the virtual world who are running with blades and other prostheses is something that I think will inspire confidence in people with disabilities to get involved and feel welcome to join in on this experience, and will ultimately contribute to increased representation."
Degree® also chose to work with iconic hip-hop artist and musician Fat Joe because of his advocacy for representation – both inside and outside the music and entertainment industry – as well as his reputation as a bridge-builder for various communities across the country.
"Throughout my career, I have always tried to be an advocate for inclusion. Whether it's different body shapes, sizes, ethnicities, or physical abilities, representation is key in making people feel welcome and a part of something," said Grammy-Winning Rap Artist Fat Joe. "That's why I teamed up with Degree® to take part in the Degree® Metathon™. I feel it's so important for people to see themselves represented in places like the Metaverse to show them it's a place for everyone to participate."
Beyond the Metathon™, Degree® exemplifies its purpose through the Breaking Limits Program—a five-year, $5 million commitment to transform lives through the power of movement. The Program supports youth sports organizations, whose members face the biggest barriers to being active – including barriers due to race, sexual orientation, disabilities, financial limitations, gender, age, socioeconomic status, and more. It provides them with access to coaches and mentors, along with safe spaces to move. The Program brings to life the brand's aim to empower millions of young people to transform their lives through the power of movement by 2030.
"Over the last several years, Degree® has made great strides in progressing our mission of championing everyone to have the confidence to move more, and now we're taking that same mission into the virtual world," says Kathryn Swallow, Global Brand Vice President of Degree®. "We hope the Degree® Metathon™ will spark conversation on why representation matters—in both the Metaverse and the physical world—and its power in challenging societal norms. We're excited about our partnership with Decentraland and about the potential to influence the virtual world as it's being built and more widely adopted by consumers."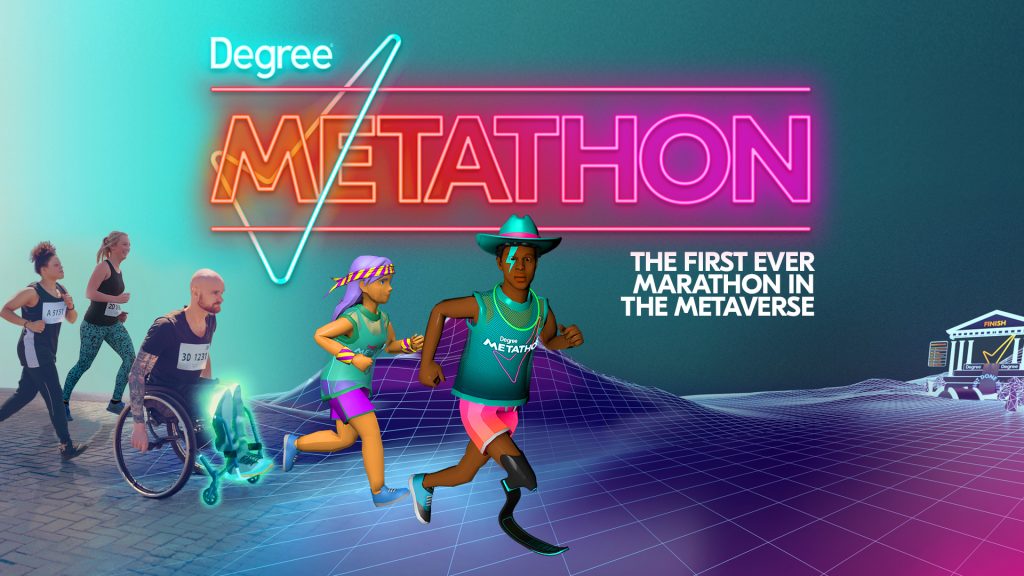 "Degree's purpose, 'Not Done Yet', is all about smashing barriers to movement and a big part of that is tackling how certain communities are represented in sport and beyond. The Metaverse provides an amazing opportunity for people to move in any way they like but making sure it's built with inclusivity and representation in mind right from the beginning is absolutely crucial. We're delighted to have been able to work with so many amazing partners to help shape what movement looks like in Decentraland going forward", said AMV BBDO creative directors Jack Smedley and George Hackforth-Jones.
Those interested in taking part in the world's-first Metathon™ can visit the Events Page on Decentraland.org to register for the event taking place Tuesday, April 26, 2022 at 6 p.m. EDT.
CREDITS:
Client: Unilever
Brand: Degree / Rexona / Sure / Shield
Campaign title: Degree Metathon
Brand team: Kathryn Swallow, Renata Assunção and Pilar Pereira
Creative Agency: AMV BBDO
CCO: Nicholas Hulley and Nadja Lossgott
Creative Directors: Jack Smedley and George Hackforth-Jones
Creative Team: Julia Merino, Lewis Beaton and Claire Watson
Account Team: Katy Talikowska, Maciej Stryjek and Matt Stimson
Producers: Ian Whittle and Alex Warren
Design: Simon Dilks, Max Henderson, Jack Fairclough, Nor Mira Canales, Mark Deamer and Andrew Pashkov
Planning: Michael Alhadeff
Production Partner: Vegas City team
PR agency: Edelman US
PR team: Sharelyn Devonshire, Adam Bricault, David Brigandi, Fiona Paladino and Thea Nagle
Source: AMV BBDO