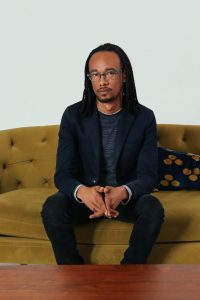 Deutsch announced the elevation of Husani Oakley to Chief Technology Officer. Reporting directly to Val DiFebo, CEO of Deutsch NY, Oakley will work closely beside strategy, media and creative, continuing to spearhead technology efforts across clients including AB InBev, Reebok, and Johnson & Johnson, among others. As CTO, he will continue his leadership role in Great Machine, Deutsch's A.I. innovation studio.
"Creative minds, like Husani, are naturally curious and rarely satisfied with the status quo, which is what makes him the perfect candidate to lead Deutsch's technology offering," noted DiFebo. "In addition to advancing our vision, Husani will continue to redefine Deutsch's digital expertise and align our offerings with the world's ever-changing business needs. Tasked with continuing the agency's momentum around digital innovation, he'll work with our enterprising team to create proprietary marketing technology that drives creative business solutions."
Oakley joined Deutsch in 2018 as SVP, Director of Technology and advanced to EVP, Director of Technology and Innovation in 2019. "I've spent two years now working with a team that has exploration built into its DNA. The proof's in the pudding; the work speaks for itself," said Oakley. "But the technology-enabled culture we live in changes too quickly for us to be satisfied and accept the status quo with what we accomplished yesterday. We walk into the office every day hell-bent on finding opportunities to stay ahead of the curve and use technology to help solve our clients' critical business challenges."
Oakley's start-up experience includes founding online investing platform GoldBean, design and technology firm Oakley + Partners, and the cultural event newsletter​ Flavorpill​, to name a few. He's also held key technology positions at agencies including Wieden + Kennedy, Euro RSCG, and Omnicom's Evolution Bureau.
Deutsch New York is a group of innovators, creators, dreamers, thinkers and doers – partners all in service to build brands and make businesses grow through creativity. A full-service, integrated advertising and digital agency, we service an array of clients including: Reebok, Johnson & Johnson, PNC Bank, AB InBev, and Newman's Own. Internationally awarded, Deutsch delivers authentic content that entertains, educates, and builds brand loyalty for its clients.
Source: Deutsch