Discovery has today rebranded Home to popular home and lifestyle network HGTV in the UK. The rebrand includes a bespoke brand identity for the UK inspired by British design trends, with a new logo, idents and website.
HGTV celebrates the spirit of home; with stories, characters and home transformations that empower fans to design the homes they love. The UK rebrand gives audiences access to the content that has made HGTV a household name in the US, with titles including Fixer Upper, Lottery Dream Home and House Hunters, combined with much loved local programmes including Sarah Beeny's Renovate Don't Relocate, Escape to the Country and DIY SOS.
A localised brand identity reflects the British trends, seasons and content of the channel. Six new idents promote the idea that inspiration can come from anywhere, from the texture of a flickering neon sign, to the movement of the Mediterranean Sea and the colour in a bowl of meringue kisses. While the 'rooftop' on the logo has been given a new life as the catalyst for text animations and transitions.
Clare Laycock, SVP Head of Lifestyle and Entertainment Brands said: "We are excited to welcome this iconic global brand to the UK. HGTV powers people's passions for home with the best property and renovation shows in the world. Its launch in this market is supported by a playful new brand identity and a local HGTV website, rich with inspiring home improvement content. As the ultimate destination for home enthusiasts, its launch provides a powerful opportunity to connect advertisers with these fans across all platforms."
Robin Garnett VP, Branding & Creative said: "HGTV celebrates the home as a vibrant and ever-changing space, reflecting our changing tastes and life stages. We have captured this in the new identity by creating a series of living moodboards: each one explores how different British design trends (from über-glam to jungle motifs) find their way into our homes, all expressed with wit, playfulness and oodles of style".
It was announced last week that HGTV launches in Italy as a free-to-air channel in February, and as a pay TV channel in 11 Central European markets during Q1 2020. In the US HGTV has been the #1 network for upscale women aged 25-54 for 12 consecutive years.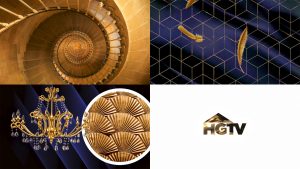 HGTV is available on BT TV 42, Freeview 42, Sky 158, Virgin 279 and Youview 42 and can be streamed on dplay, Discovery's free streaming service with live TV, catch up and box sets.
Source: Discovery