Operationally, a business coming out of COVID-19 is not going to be the same as the one that went into it. The way the company works may well have changed. There may be staff working from home, workers who've been furloughed who need bringing back into the fold, or roles may have been redefined.
In light of the pandemic, the company may also be contemplating a new way of working, perhaps with people able to work from home a few days a week. Others may be thinking of establishing homeworking full time across the board, with offices downsized or eliminated altogether as a result.
These are seismic changes for staff. Therefore, this is a key moment for the communications team to recalibrate its activity and revisit the internal communications plan to see if it still fits with the new regime.
Your Staff
That's why I'd suggest that communications move number one perhaps needs to involve an audit of personnel, just to understand how they're feeling, what they're worrying about, the communications techniques that have worked and what else is required.
If plans haven't been crystallised, I'd urge organisations to also include in the audit some questioning about where and how people want to work. There's a real risk that business leaders – who have experienced home working from the comfort of their large, detached, rural homes, and rather liked it, will assume all their staff will be happy to work from home. Leaders need to be careful not to assume this. Nor should they second guess that everyone wants to return to the workplace. Views will be mixed, and a happy workforce will be dependent on the company noting and through its communications responding to those differing views.
Competition
The pandemic won't have just changed your business, it will have equally impacted on your competitors. Some of them may have gone to the wall, some will have changed how they operate. They may have trimmed back their services or product ranges, laid off staff or refocused their efforts. If your competitor landscape has changed, your messaging and USPs may now need to be different. With one competitor out of the race or wounded, there may be whole markets or tranches of neglected customers to go for.
Sit down with your sales teams to understand what these differences are. You may no longer be the second biggest player – you may be number 1! You may be the only one now offering a certain service. Your field force, once a pretty standard feature, may now be a major selling point. But be honest with yourself. If the pandemic has weakened your proposition too, you need to be aware of this and be prepared with communications to plug the gaps. Recalibrate where you are, what you offer and how this squares up against the competition and revise your messaging and strategy accordingly.
Your Site & E-Commerce
The pandemic has spawned an e-commerce boom. According to McKinsey's survey, B2B sales leaders rate digital channels as twice as important as before COVID-19. As an agency we're seeing this first-hand, with companies who are unable to get face to face with prospects, asking us to help improve their online performance.
This is important even for companies which aren't fundamentally suited to selling via e-commerce and are planning on the old ways of doing business returning. Their customers' behaviour has changed. During the pandemic people have got used to doing more buying and product research online. They've increased their use of social channels, they consume more video, look at reviews, check out influencers and media recommendations. Many of these habits will remain moving forwards.
Communications teams need to respond to this by looking at their online performance and asking is it still fit for purpose?
During the crisis, companies had to move fast to get online. Perhaps quickly installing e-commerce functionality on their site or things like webchat support. But as we come out of the crisis, it's an opportunity for a more measured look at how your web presence stacks up and how comms can improve it.
So, as a third communications step, run an audit of the website to assess its usability and messaging – to see if it's clearly leading people through the sales process. Identify where the gaps are and what needs to be changed or added.
Does your site explain things properly? Is it complicated to navigate? Does it support the online sales/enquiry process? For instance, if someone is having to buy/enquire online they are inhibited; they can't see things in person, so perhaps you need short video demos of equipment or Q&As and case studies. You also need to be clear about things like warranties, delivery costs and so forth. A huge percentage of 'cart abandonment' happens due to nasty surprises during the online order process.
Consider your social channels, are they engaging enough? Do they support the needs of the online buyer? Also look at your bounce rate. If this is high it suggests people are coming to your site, not really finding what they're after and quickly heading off again. It could be you're attracting the wrong people in the first place, or the site you have is not properly catering for the visitors you want. So, take a look and see what needs fixing content wise, as now you have the time to do all of this properly.
Data-capture & SEO
In addition to checking the way your site communicates, as a next step take a look at some technical aspects of your web strategy which can fall firmly within the communications professional's remit – namely data-capture and SEO.
Firstly, you should ensure you are giving yourself the opportunity to data-capture people. During COVID-19 you probably didn't have time to finesse this aspect of your site, but now's the time to apply some communications thinking and skill to the process. I don't mean the tech team's answer – inserting irritating pop-ups the minute someone lands on your site. Instead, once people have been on your site a while, or have looked at certain content, offer them something really valuable. A guide, an expert report, membership of a special club – whatever will be useful to them, is offered in exchange for name and email details. By capturing such details, you will be able to proactively market to people rather than being so dependent on SEO to deliver people to your door.
As part of any web/e-commerce strategy reboot, I'd also have a meeting with the web team to clarify the keyword strategy. This is something so often overlooked by communications people, yet their activity can have a profound impact on a company's web traffic and SEO.  As a PR agency we've doubled the web traffic to a leading accountancy firm through our online media activity which dovetails closely with their blogging. So, use the pandemic and your company's increased reliance on the web as a moment to reassert your role in this aspect of the business.  Out of these discussions should come new blog and media relations plans which support the site's search engine optimisation. 
Current Customers
When new business is so hard to come by, keeping current customers happy (and buying) is crucial. COVID-19 will have made your business acutely aware of this fact. But getting face to face with customers is still difficult, even as we emerge from lockdown. Communication really needs to plug this gap. So, my final step is to review your customer communications. If you're selling more online, remember that in a typical e-commerce business, repeat customers make up 8% of the customer base and 40% of turnover!
That first communication you have with a customer is crucial. As a priority, look at the order confirmation email. It is probably the one email any customer reads. Is it inspiring, is it asking for a review or referral? Is it offering them something in return for engaging with you further? You want to involve that customer in your activity so that they not only come back for more, but they recommend you to others.
Conclusion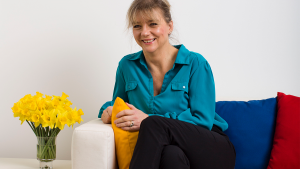 As these five steps show, the communications team has the potential to impact on most aspects of a business, from the motivation of staff, market positioning and the efficacy of sales channels through to a company's online visibility and its levels of repeat business. Don't allow communications' critical role with each of these to be overlooked or undersold. To secure your company's post-COVID future, make your presence felt.
BY Louise Findlay-Wilson, MD of Energy PR