Sports drink brand Gatorade has published a YouTube short celebrating the achievement of Super Bowl hero Peyton Manning conceived by TBWA\Chiat\Day LA.
Lauding Manning as the 'Greatest Cowboy' the 30" piece incorporates a series of snapshots from the field of play showing the Bronco's star, nicknamed the Sheriff, in action – all set to the theme of Johnny Cash's 'Greatest Cowboy of Them All".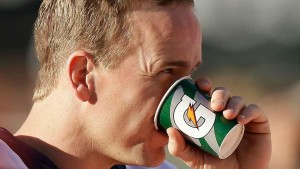 Gatorade has enjoyed a close association with the Super Bowl, generating more than 100m views from a sponsored Snapchat lens, a new record for the app.
The quirky ad allowed users to apply some virtual eye shadow and dunk a gallon of digital Gatorade over their selfie image which could then be shared privately amongst friends.
Snapchat hasn't divulged how many unique views were amongst the haul but it bodes well for the vanishing video platform's recent exclusive tie-up with Viacom to sell ad space.