GoStudent, the online tutoring provider that offers tailored, 1:1 support to students across the globe, has today announced the launch of its first English-language television advert, designed to showcase the all-consuming joy of succeeding at school. Produced in collaboration with CANADA, the company behind the latest videos from Dua Lipa, the advert comes just a year after GoStudent launched in the UK. The campaign will be aired across ITV, Channel4 and Sky Media.
Capturing the spirit of the GoStudent brand, the advert is joyful, energising and engaging – everything that a good tutoring session should be. Set to a nostalgic 90s soundtrack and choreographed with catchy moves, the advert is playfully familiar as we see child after child dance with joy as they embrace the feeling of getting good grades. As momentum builds, the viewer is caught up in the advert's wave of positivity: from the excitement of a young boy announcing his excellent school grades to his parents, to the joy of a teenage girl excitedly connecting with her tutor, we see the infectious nature of happiness spread to a classroom filled with confident students at exam time.
"We wanted our advert to really capture the euphoria a child feels when something finally clicks, and that sensation of doing well in school." says Paul Cumiskey, SVP Marketing at GoStudent. "We are dedicated to unlocking the potential of every school-aged child, so it was important for us to highlight that every student is capable of sharing that feeling of success. From school walls, to living-room floors, this campaign is sure to deeply resonate with both parents and their children, because who doesn't love the feeling of doing well, and who hasn't found themselves doing a 'happy dance' when they feel excited?"
"Late last year, we released the GoStudent Education Report, which found that 96% of children in the UK found tutoring to be beneficial. With this in mind, we are so excited to launch our campaign in the UK, and we hope it will inspire more parents across the UK to consider 1:1 tutoring as an option for their child."
GoStudent is already trusted by parents across the UK, and is 'Mumsnet Rated'. The company aims to unlock the potential of every student by finding the very best tutor for them. Operating fully online, GoStudent provides paid, one-to-one, video-based tuition to primary, secondary and college-aged students in more than 30 subjects, with maths, English and modern foreign languages proving most popular.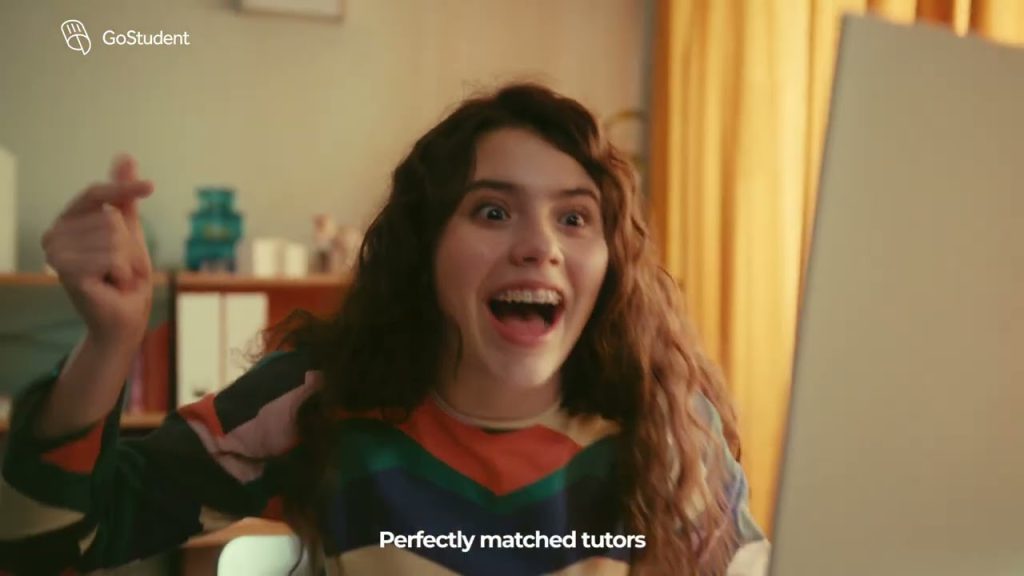 Advertiser: GoStudent
Creative Director: Louise Hildebrand
Creative Team: Quincy Cardinale, Chloe Wilkinson, Tamlyn Wilson, Liam Clowes, Charlotte Powell and Facundo Prats Pannunzio
Production Company: CANADA
Director: Nur Cadadevall
Executive Producer: Victory Mata
Production Director: Marga Sardá
Concept Team: Sarah Hegyesi and Lucy Dale
Marketing and PR: Paul Cumiskey, Gregor Kobe, Bernarda Popovic and Kristina Bassett Media agency: Carat UK
Released: mid February, 2022
Title: "That's the feeling of better grades"
Source: GoStudent