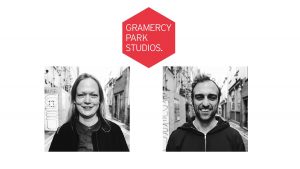 Off the back of a record year of growth in 2017, Gramercy Park Studios expands its team with two new hires. Esther Berglund and Jonathan Watkins join the post production facility's VFX and CG departments as the post production studio turns five.
Esther Berglund joins Gramercy Park Studios as a Flame Artist. She established her skills internationally, beginning her career in Sweden before moving to Denmark and then finally residing in London in 2006. Although she has worked with some of London's most recognised post-facilities including The Mill and Framestore, she did not start out in the field. Esther enjoyed stints as a production assistant, casting director and assistant editor before cultivating her skills in Flame.
This has seen her collaborate on commercial work with clients including Dior, Nokia, Ford, Burberry and Sky, as well as working on promos with Madonna, Take That and Lily Allen.
Esther worked with GPS as a freelance Flame artist since 2014 on major projects for clients such as Volvo, Boots and Heineken. In this time, she has established herself as a familiar face with clients and the GPS team before becoming a permanent member of the growing facility.
Mike Beardall, Head of 2-D at Gramercy Park Studios says: "Over the past few years Esther has contributed to the success of Gramercy Park Studios' growth by working on some important jobs with us. She has become a regular fixture here at the facility. Clients have loved working with her, and equally, we have loved having her here."
Esther says: "As a freelancer, I have really enjoyed collaborating with Gramercy Park Studios. The company is great and the team all work really well together. I am looking forward to joining the team as a fixed member of staff and to working on many more great projects as the studios continue to grow."
Alongside Esther, Jonathan Watkins joins the post production facility as a CG Artist. Jonathan recently moved to London from Australia where he studied Digital Media in Sydney. His eagerness to explore VFX saw him journey to London in 2017, before joining GPS.
Since graduating in 2014, Jonathan's curiosity of CG has led him to cultivate various post-production skills by working in a range of different roles. Jonathan started his career as a Motion Designer with directors Toby and Pete, Sydney, where he developed live stage visuals and music videos. Jonathan later delved into 3D and commercial work with VFX studio, Make Mountains.
He says: "I love many and most aspects of CGI and I am looking forward to developing photo-real CG work with Gramercy Park. This is a great opportunity to learn from some of the industry's top talent."
Richard Ireland, Managing Director at Gramercy Park Studios says: "2018 is our fifth birthday and a massive year for us, both in terms of building on what has gone before and pushing ourselves creatively. Beginning the year with two new hires in Esther and Jon will ensure that we continue to move in the right direction."
Source: Gramercy Park Studios