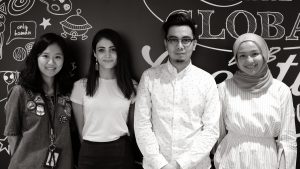 gyro, the world's first full-service, global creative B2B powerhouse, has promoted a top media leader and welcomed two new hires to its rapidly expanding Singapore office.
Rimi Sweis has been promoted to Head of Media for gyro APAC. Sweis has held multiple media account roles within Band Interprise and previously Carat Enterprise which merged with gyro under the Dentsu Aegis Network in July 2016. Rimi has excelled in driving digital innovation and superior planning in B2B media. Additionally, she has proven successful in delivering regional media strategy and operations.
gyro APAC has also promoted Geraldson Santos to Account Director. Santos' role will support the innovation of gyro's B2B media offering; continuing to work across key accounts including Epson, USG Boral and Microsoft.
The gyro media team welcomes two new hires: Fathiah Abdul joins as Account Manager, and will be leading day-to-day media planning. Prior to gyro, Abdul was at Carat Singapore.
Shi Yi joins as Account Executive as well, with a passion for performance marketing and paid social. Shi Yi joined from the performance marketing agency Webnatics.
"Strong and knowledgeable talent is the very heart of our precision offering," said Kieran Vye, Managing Director of gyro APAC. "We are thrilled to elevate Rimi and Geraldson and further grow our media offering as we continue to provide best-in-class full-service B2B marketing solutions to our valued clients."
gyro APAC, which includes a presence in Singapore, Australia, New Zealand, Tokyo and Hong Kong, has quickly grown to 100-plus staff members.
gyro APAC's growing B2B media team is further boosted through Sydney by the Head of gyro Australia New Zealand Dom Weatherhead. Clients include Microsoft, Canon Business Services and Facebook.
The team offers B2B media experience as well as creative and strategy/planning to their clients. "We deliver one consistent way of working, when servicing our clients, no matter what market they are focusing on," said Weatherhead. "Our holistic approach has proven extremely successful for solving our client's challenges and thanks to these changes our offering has only grown stronger."
Source: gyro