Working from home has become so normal that we even forgot how not working from home is.
This new way of working brought with it endless calls, zoom fatigue, hardship in separating work from life and unfortunately, new bad habits. Like consuming alcohol during work hours.
Heineken's new campaign "Smart Working?" reminds consumers to be careful about how and when they consume, and encourage people to never drink alcohol while working.
When it comes to smart working skip the drinks or switch to smart-drinking, with Heineken 0.0
Bruno Bertelli, Global CCO of @PublicisWW and CEO of Le Pub, said:
Seeing the ways people are adapting to the new way of working was eye opening. It was very important that we take a stand and raise a mirror to what's happening.
Heineken®'s unique tone of voice was very important in the process of bringing the film "Smart Working?" to life, and a very powerful message: when you work you should not drink.
Bram Westenbrink, Heineken® Global Senior Director said:
Heineken® always aims to tell real stories that resonate with people worldwide. With "Smart Working?" the campaign promotes responsible consumption depicting real life happenings through the lenses of video calls – situations that people have either encountered, or been part of. Through our campaign message we encourage people to never work and drink. 
The campaign was produced by The Family and shot under strict regulations respecting the lockdown. The film is directed by Andrew Lang who portrayed the typical working-from-home situation through the lens of a video call. Guided oversight by agency and client was provided remotely through video conferencing.  Accompanying music is the famous track In the Hall of the Mountain King mixed by Sizzer Amsterdam.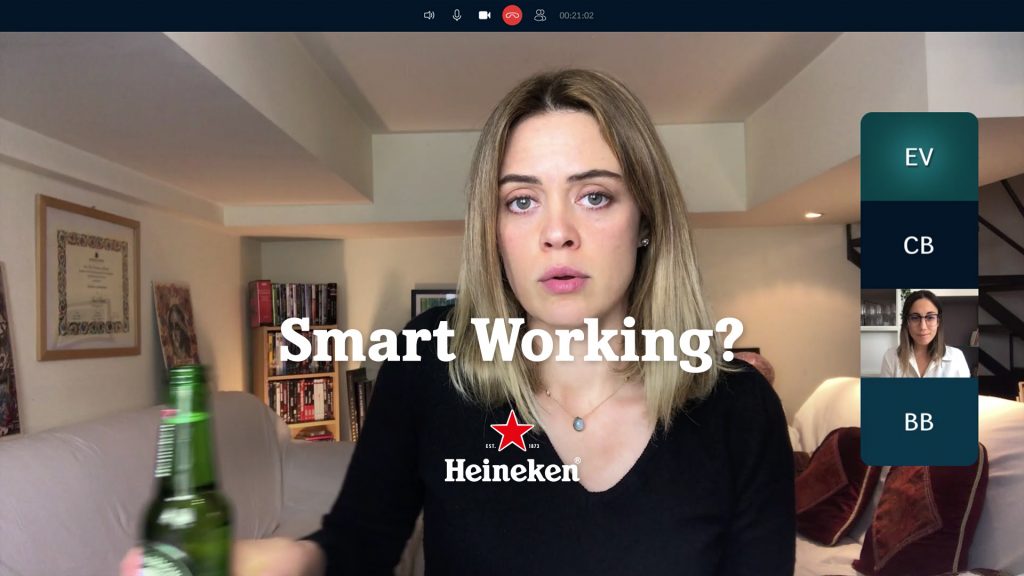 HEINEKEN
Sr. Director Global Heineken®: Bram Westenbrink
Director Global Communication Heineken®: Daniela Iebba
Director Global Digital Heineken®: Rob van Griensven
Global Digital Manager Heineken®: Laurens Griep
LE PUB/ PUBLICIS ITALY
Global Chief Creative Officer Publicis WW: Bruno Bertelli
Chief Creative Officer: Cristiana Boccassini

Global Executive Creative Director: Mihnea Gheorghiu
Global Executive Creative Director: Milos Obradovic
Global Creative Director: Sandra Bold
Creative Supervisor: Marie Poumeyrol
Senior Art Director: Alex Eftimie
Senior Copywriter: Ruxandra Drilea
Senior Strategist: Margherita Tuvo
Head TV Production: Francesca Zazzera
Tv Producer: Eva Maio
Global Client Service Director: Eleni Charakleia
Account Director: Codruta Arbore
Account Supervisor: Letizia Cantu
PRODUCTION
Production Company: The Family
Director: Andrew Lang
DOP: Fabio Casati
Set designer: Luca Vitetta
Managing Director: Ada Bovini
Producer: Annalisa Bronzi
Editor: Fabrizio Squeo
Post Production Company, Color Grading, Sound Studio: Boomerang
Music: Sizzer
Source: Publicis