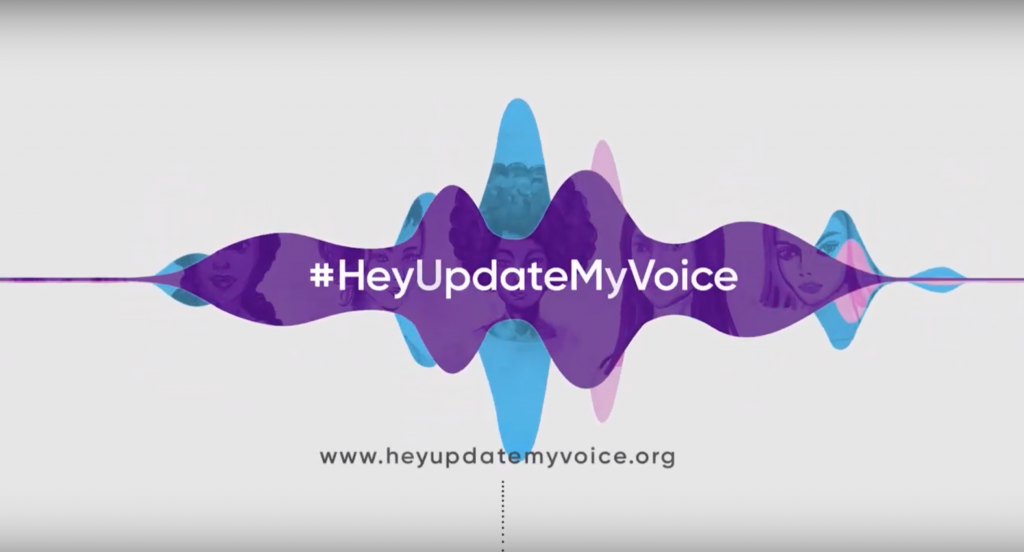 Virtual assistants are increasingly present in people's lives, helping clear doubts and making everyday life easier. What they all have in common is a standard female voice and a woman's name, such as Lu, Siri, Alexa, Nat, Bia, etc.
According to a study released in May 2019 by UNESCO called "I'd Blush If I Could," virtual AI assistants have been suffering verbal harassment of a sexual nature, to which they usually respond with tolerant, subservient and passive remarks.
The "Hey, Update My Voice" movement, in partnership with UNESCO, was born out of this context with the goal of teaching respect towards virtual assistants and, in addition, asking tech companies to update their assistants' responses. Because if that happens to them, imagine what happens in real life to real women.
Every day around the world, virtual assistants suffer abuse and harassment of all kinds. In Brazil, for example, Lu, the virtual assistant of Magazine Luiza stores, has been victimized by this sort of violence. Worldwide, cases have been reported involving Siri and Alexa, among others. When we look at the real world, the figures are startling:
73% of women worldwide have suffered harassment online.
15 million women aged 15–19 have already suffered sexual abuse.
70% of female refugees are victims of violence throughout their lives.
97% of Brazilian women say they have suffered harassment on public and private transport.
43% of European women suffered bullying or physical violence from their partners.
1 in 5 young people suffer sexual abuse within universities in the USA.
Right now, the public is a valuable asset for the movement. On the https://heyupdatemyvoice.org website, there is a field called "Your Voice" where anyone can record messages up to 15 seconds long suggesting answers virtual assistants can use to respond to harassment. Our goal is for companies to join the movement, updating their virtual assistants' responses based on those suggestions.
In addition to this, the website contains information about the movement, local and international news around the topics of cyber harassment and gender bias, and a video presentation of the issue.
The reported situations involving Artificial Intelligence are not just about technology. The issue is about humanity itself, raising questions regarding science, politics, philosophy and ethics. The movement is intended to responsibly foster this debate.
Furthermore, according to the UNESCO study, virtual assistants are largely programmed by men (who account for 90 percent of the workforce in AI creation) and follow the directive of always sounding subservient, even when verbally assaulted.
The "Hey, Update My Voice" movement aims to educate current and future generations better and is open to anyone's participation, from Women's Rights organizations to companies that employ virtual assistants, or people who simply want to join the debate.
"UNESCO has been conducting research and organizing a series of events on the topic of gender equality, with the goal of promoting debates with various stakeholders involving academics, private and government organizations, the media and civil society. It's necessary that we contribute to the establishment of ethical principles that regulate Artificial Intelligence with transparency and responsibility," says Marlova Jovchelovitch Noleto, UNESCO director and representative for Brazil.
The partnership between UNESCO and the "Hey, Update My Voice" movement puts forward the creation of a network of specialists working to collect data in Brazil: public policy-makers and companies that could help enforce rules and principles, especially when it comes to active forms of engaging society in methods of Artificial Intelligence governance.
The movement and campaign were created and developed by SunsetDDB in Brazil—an agency part of DDB Latina.
*Sources:
"I'd Blush If I Could"
https://unesdoc.unesco.org/ark:/48223/pf0000367416.page=1
https://www.wired.com/story/why-siri-and-alexa-werent-built-to-smack-down-harassment/
https://hbr.org/2019/11/4-ways-to-address-gender-bias-in-ai
https://www.theguardian.com/commentisfree/2019/may/22/sexually-harass-siri-virtual-assistants-women
https://hbr.org/podcast/2019/11/ai-accountability-and-power
Source: DDB Latina Group