Inskin Media, which specialises in multi-screen, high impact digital brand advertising, has made a number of key appointments across its client success and publisher services teams as it continues its global expansion.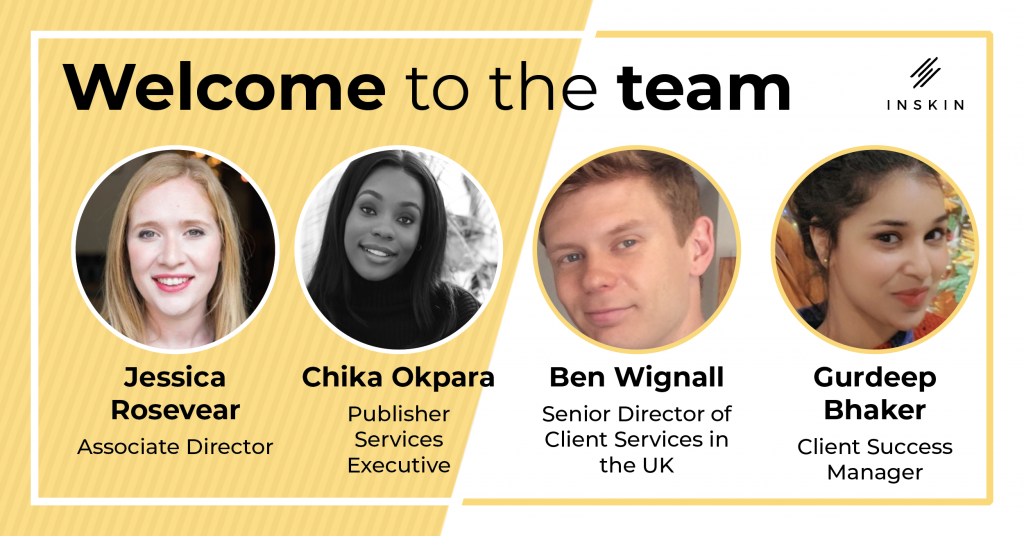 Jessica Rosevear has been appointed as Associate Director, Supply – in the publisher services team – alongside another new hire, Chika Okpara, who has been hired as Publisher Services Executive .
Jessica previously worked for Inskin Media for over seven years, prior to a stint running a small business. She is known for her exemplary relationship-building skills, her positive, 'can do' attitude, and her ability to smash targets. Chika will work alongside her and is tasked with discovering new opportunities for growth and maintaining relationships among the team's existing publisher base, having recently been working at Xandr. At Inskin Media Chika will provide dedicated day-to-day contact and troubleshooting for publisher partners, whilst working closely with key internal and external stakeholders to ensure targets are hit. They start on the 20th and 27th of this month, respectively.

Ben Wignall joins as Senior Director of Client Services in the UK; starting in November. He brings with him over a decade of experience in media, expertise in digital strategy and a consultative approach. Previously Data Strategy Director at media agency, Initiative, before moving through the ranks to Client Services Director at The Exchange Lab, he will be focusing on streamlining internal processes, building out Inskin Media's data offering, and ensuring the agency continues to delight its clients with impactful, high performance creative solutions – whilst overseeing the success of campaign lifecycles from creative development and execution to publisher management.
Also re-joining the team is Gurdeep Bhaker, Inskin Media's new Client Success Manager, who starts in the role in October. Prior to this, she was Head of Delivery at Brand Advance Group, and a campaign manager at Silver Bullet. Gurdeep's experience will be invaluable in further amplifying Inskin Media's reputation for creativity and services to the high impact digital advertising industry.
Anna Forbes, CRO, Inskin comments: "We are delighted to have this range of talent join us, to help us in our mission to improve the effectiveness of digital advertising. These individuals each bring with them energy, dynamism and industry experience and will help us immeasurably as we continue to help publishers and brands turbocharge the effectiveness of digital campaigns. It seems the industry is waking up to the need for creative optimisation alongside the more traditional levers of behavioural and contextualisation within modern, digital advertising today." 
Inskin Media partners with 260 publishers, works with over 1,000 blue-chip brand clients and delivers campaigns to more than 2,000 premium websites, globally.
Source:  Inskin Media