UK based proprietary software company, J2 Aircraft Dynamics, has created a new website to reinforce its brand credentials and enhance new customer dialogue, in partnership with creative technology studio Appetite Creative.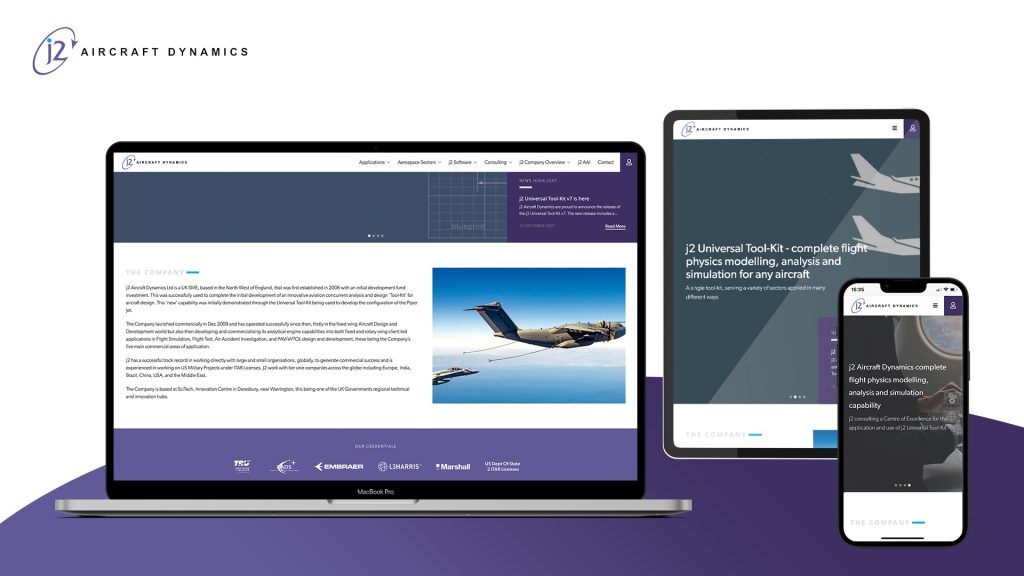 J2 Aircraft Dynamics software and consulting services are used throughout the global aerospace industry as fundamental tools for the design, analysis, and modelling of fixed and rotary wing aircraft. The new website is designed to communicate the outstanding capabilities of the J2 products, which are becoming an industry-leading standard for aircraft modelling, analysis, and simulation.
"We're pleased to have worked with the team at Appetite Creative to develop a professional and user-friendly website," said Paul Jenkins at J2. "It's essential for the growth of our business to have a website that clearly shows the benefits and features of our Universal Tool-Kit software and encourages new customers to get in touch."
"Showcasing the range of J2 products in an accessible and informative way was key in this project – and our designers worked hard to deliver a compelling website that really delivers for J2," said Jenny Stanley, MD at Appetite Creative. "Websites are essential for businesses to interact with customers in a frictionless way – now more than ever it is important websites are well designed and updated, it is often a customer's first impression of your business and we're pleased with the results delivered for J2."
The recent restrictions on travel as the result of Covid-19, moved J2 to ramp up its electronic footprint across its entire range to reassert its expertise and authority in the market. The website redesign coincided with the upcoming release of the latest version, v7 of the J2 Universal Tool-Kit and the company is developing an ambitious series of video tutorials created for university students and professional engineers, to demonstrate the forward thinking and dynamic approach of the business.
The new site includes colour blocking and strong images to create a visually attractive site with a modern and interactive look and feel that reflects J2's growth and achievements. The website's navigation was simplified with more user-friendly functionality and navigation, clearly showing key information and J2's qualifications at first glance.
The new website positions J2 as an industry leader with a strong web presence and creative content that encourages action, contact and downloads from new and existing users. Built on Appetite's 'Tsunami Stack', the website includes modern techniques and frameworks such as Tailwind and Alpine, optimised over time for custom-built speed and performance.
Designed to appeal to all target markets including UK, China and Indian markets, the new website launched earlier this month.
Source: Appetite Creative