LAB Group has announced the launch of two new specialist agency brands, Riverr and VERJ, as it elevates its existing LAB agency brand to group-level in order to offer a single point of entry for clients.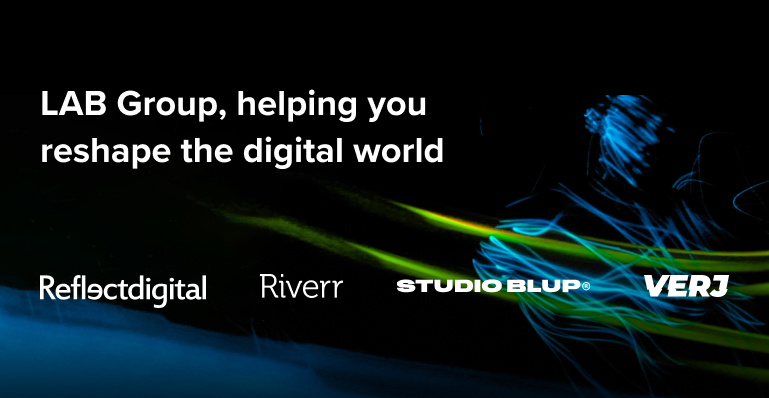 As LAB Group continues to grow, and diversify its client offering, it has identified the need to develop and nurture specialist agencies, allowing room for teams to craft their expertise and innovate under the banner of 'best-in-class agencies helping you reshape the digital world'.
VERJ is the behavioural science hub of the group, with Riverr providing innovation in cutting edge digital services. Both agencies sit alongside Studio BLUP, a creative studio rooted in the New Culture, and Reflect Digital, an SEO and PPC specialist agency.
Riverr is an innovative digital agency specialising in solution design, product development and platform implementation, representing the best digital talent offered by LAB Group. As well as offering innovative frameworks, cutting-edge services and product design and development, the agency will continue its long-standing partnership with traditional CMS's such as Sitecore and Episerver. It will be led by Andy Mason, who was formerly General Manager, LAB and is moving into the dual role of Chief Operating Officer, LAB Group and Managing Director, Riverr.
VERJ is a practitioner-led, optimisation agency, bringing together the best from digital, sciences and academia to reshape how we look at the digital world. VERJ is the behavioural sciences hub of LAB and will focus on core services around research and insights, creative and optimisation to help clients understand their audiences better, solve new challenges and drive results.
Both specialist agencies are focused on the enterprise space, working with funded ventures, enterprise clients and ecommerce. In partnership, they are currently working on innovation grants and projects to transform industries.
The announcement follows LAB Group's recent acquisition of creative agency Studio BLUP and its acquisition of digital agency Reflect Digital last year.
Jonny Tooze, CEO, LAB Group, said: "We're really excited about the next stage of growth in LAB Group. Moving the LAB brand to group-level enables us to clarify our service offering and the quality we can deliver for our clients. It also paves the way for other agencies to join the group, further expanding our portfolio. Riverr and VERJ will sit alongside Reflect Digital and Studio BLUP as unique and energetic agencies focused on fostering a people-first culture and delivering great work."
Source: LAB Group