Toyota has been leading the charge in Hybrid technology for 23 years, and is now on its 4th Generation Hybrid powertrain. Toyota Hybrids – which seamlessly combine an electric motor with a petrol engine – are capable of driving in zero emissions mode for over 50% of the time. With 15 million Toyota Hybrid drivers across the world, the Toyota brand is probably responsible for more electric kilometres being driven than any other brand, every day.
To celebrate this impressive feat, and the widespread adoption of Hybrid technology, Toyota and The&Partnership launched an integrated multi-channel, multi-market campaign across Europe to show that Toyota is the undisputed leader in automotive electrification, thanks to its next generation Toyota Hybrid technology that offers the best in performance and reliability, across the widest range of models.
Didier Gambart, Vice President, Toyota Sales, Marketing & CX at Toyota Motor Europe said
Toyota has over 20 years of Hybrid expertise and has been setting the benchmark for Hybrid ever since it introduced the world to the first mass produced Hybrid. As the world moves forward, with drivers showing a greater awareness of environmental issues, and cities encouraging drivers to not use public transport at the moment, particularly in Europe; Toyota's self-charging Hybrids not only offer exceptionally low emissions and high fuel efficiency, but are able to significantly reduce (in some instances, by half) European driver's vehicle emissions.
Developed to reinforce Toyota's leadership in Hybrid technology, this impactful campaign will sit across all channels: digital, social, OOH, print, TVC.
Jim Stump, Creative Director, The&Partnership said, "Not everyone can afford a fully electric car, especially not right now, but they can begin to drive at least half electric and play a part in a more collective environmental effort with Toyota Hybrid technology Toyota have pioneered. It's this collective / multiplying effect we've reflected in the campaign; millions of owners driving more models and more electric miles than anyone else, every day."
Shot over four days in Warsaw, Poland on the new Sony Venice; optimal for shooting low-light. The 60' film takes us through a series of mirrored scenes, we watch different Toyota Hybrids blend into one another as they navigate across a bustling city. As we look into each vehicle, we see that each car holds a different person, a different life, but as they move together, they morph into one force.
The campaign encourages consumers to make the best choice possible when they switch to an electrified car – to "Lead The Charge" with a Toyota Hybrid.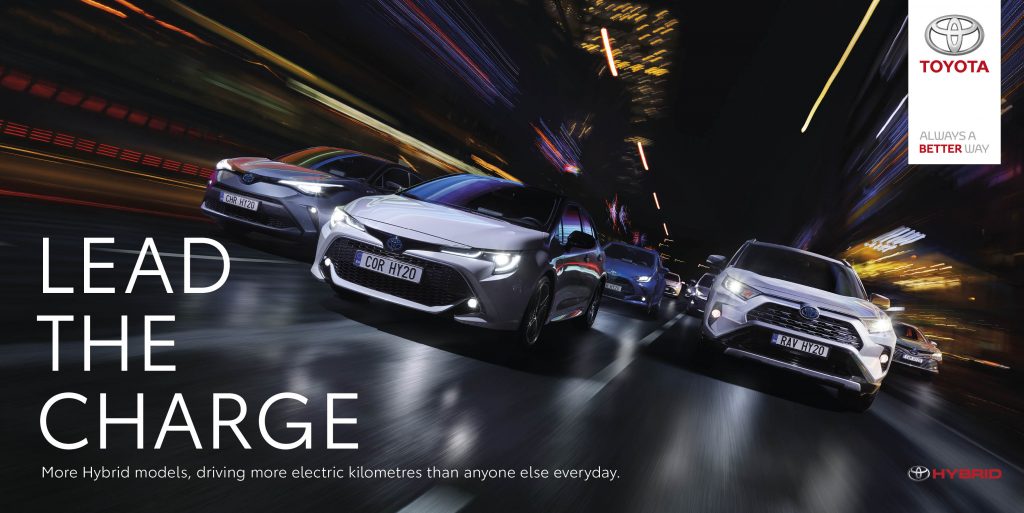 Daniel de Viciola, Director, Friend said "It was a fun technical challenge to create this kaleidoscopic world; it was important that the reflections didn't just look like an added filter to create an effect. I wanted to achieve the notion of a real world in constant transformation. Through the multiplications, it also becomes more and more beautiful – which has a nice connotation to how more and more Toyota Hybrids lead the way to less environmental impact."
This campaign is Toyota's biggest Hybrid brand campaign of 2020. To assert Toyota's Hybrid leadership, media will focus on stature-driving and credential-building channels, reaching a broad audience.
Alongside this, an addressable approach will identify using data signals, target audiences showing a need for further Hybrid education, ensuring Toyota is the first port of call to address key Hybrid barriers.
Based on a data and audience-driven strategy, the campaign will help communicate Toyota's Hybrid leadership credentials to the existing 15 million Toyota Hybrid drivers and encourage those considering joining the Hybrid movement to choose Toyota Hybrid today.
Source: The&Partnership