Independent advertising agency, Leagas Delaney has partnered with MSC Cruises for the launch of its global turn-of-year advertising campaign, 'The Sea at Its Most'.
The campaign was developed from the strategic, human insight around the power of the sea and the positive impact it has on human beings; that we are inherently drawn to, and inspired by the sea. The sea carries us to new places, offers us new adventures and heightens and enriches the many benefits of travel. As Masters of the Sea, MSC Cruises are best placed to give their guests the best possible travel and cruise experience and partnered with Leagas Delaney to communicate this.
The campaign reflects such a belief; with beautiful, emotive, rich visuals and art direction combining perfectly with an exclusive music track composed and recorded for the campaign by the legendary musical composer, Maestro Ennio Morricone. The campaign is truly integrated across all media channels and platforms, to ensure excellence in execution and consistency in message. The campaign's central message is inspired by The Curious Traveller – a customer segment captivated by the opportunity to explore the world in different ways and experience new, foreign cultures. The film seeks to bring the element of discovery into cruising and inspire this younger audience to uncover the curiosity, inspiration and enjoyment of cruising.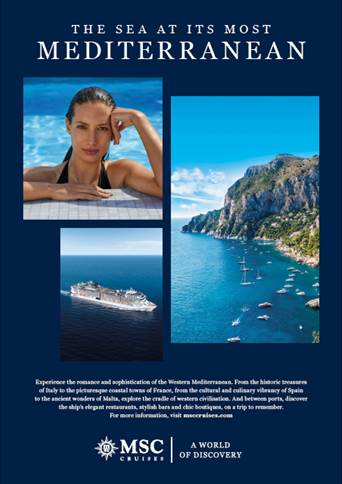 The campaign is modular, and so can be tailored and personalised for each type of audience and guest that MSC Cruises seek to speak to, be it families, cruisers (those who cruise often), younger couples and more, to align with the demographic in each particular region and market.
Leagas Delaney developed an aspirational and dynamic creative approach to cut through the more formulaic advertising seen in the cruising category. The TV advert was directed by celebrated British director, Stuart Douglas.
Source: Leagas Delaney