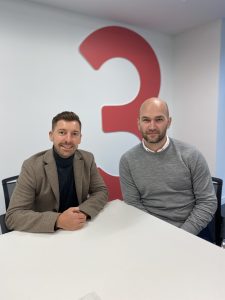 Digital performance marketing agency connective3 has today announced two additions to their team.
Will Levitt joins as a Senior PPC Manager after previously working at Brass and Google. With over 5 years' experience in digital marketing Will brings knowledge in all parts of paid media, specialising in paid search and programmatic.
Will said "After the unfortunate closing of Brass I was looking for an exciting challenge in my career and connective3 stood out as the one to watch in Leeds. I'm excited to join at such an exciting time and work with some very experienced people.
Rob May joins as Senior Search Strategist. Having worked in the industry for over 7 years at Branded3 (now Edit), Rob has experience delivering cross-channel strategies for many large national and international brands.
Rob said "I've been following the work of connective3 since the launch and have seen the great results the agency has produced in such a short time. I'm thrilled to be joining such a talented group of people at an exciting time in the growth of the business."
connective3 CEO Tim Grice had the following to say on the appointments "2020 is going to be a really exciting for connective3 as we add new talent to the agency in line with a fast-growing client base. Will and Rob bring with them a wealth of experience to the business that will help us continue delivering amazing results for our clients. We're delighted to have them on board."
connective3 launched in October 2019, and was created by Vin Chinnaraja and Patrick Altoft, the founders of Branded3. The agency is based in Leeds and employs 13 staff.
Source: connective3