Lexus International today unveiled a global campaign titled "Lexus Electrified," which was created with The&Partnership as well as award-winning director Jaron Albertin and creative production studio MPC. The global campaign envisions an electrified world in a series of future-facing films and social assets. We follow Lexus's revolutionary all-electric concept car, the LF-30, through bold, modern environments, to then reveal the current Lexus Electrified range, demonstrating that the innovative thinking behind the LF-30 also prevails in the brand's electrified vehicles today.
Lexus launched the world's first premium hybrid electric SUV in 2005; there are now 1.9m Lexus electrified vehicles on the road. The brand's pioneering spirit is brought to life in the campaign by the LF-30 concept car, which embodies the intuitive luxury that the marque is known for. Lexus' leadership of the current electrified landscape today is demonstrated by showing UX, RX, NX and ES, which along with LS, LC, IS and LM display the global line-up of exciting Lexus Electrified vehicles available today.
Brian Bolain, Global Head of Brand Management & Global Marketing, Lexus International said "This future- facing campaign reinforces our position as a visionary leader in electrification. It reflects the pioneering and innovative ethos of Lexus, that has been crafting seamless performance through electrification for over 15 years."
The social-first campaign includes a series of short social films and carousels that highlight key areas of innovation for Lexus. All assets contain the overarching message that with Lexus, you don't have to imagine an
electrified future; the Lexus signature human-centered approach to technology has been poured into every Lexus Electrified vehicle for years.
Lexus International, The &Partnership London, MPC and Smuggler faced the inevitable and universal challenges of producing and delivering a campaign during COVID. However, MPC's industry-leading technology and innovation meant that the process was smooth and often in real-time. The result is captivating work that delivers in all respects.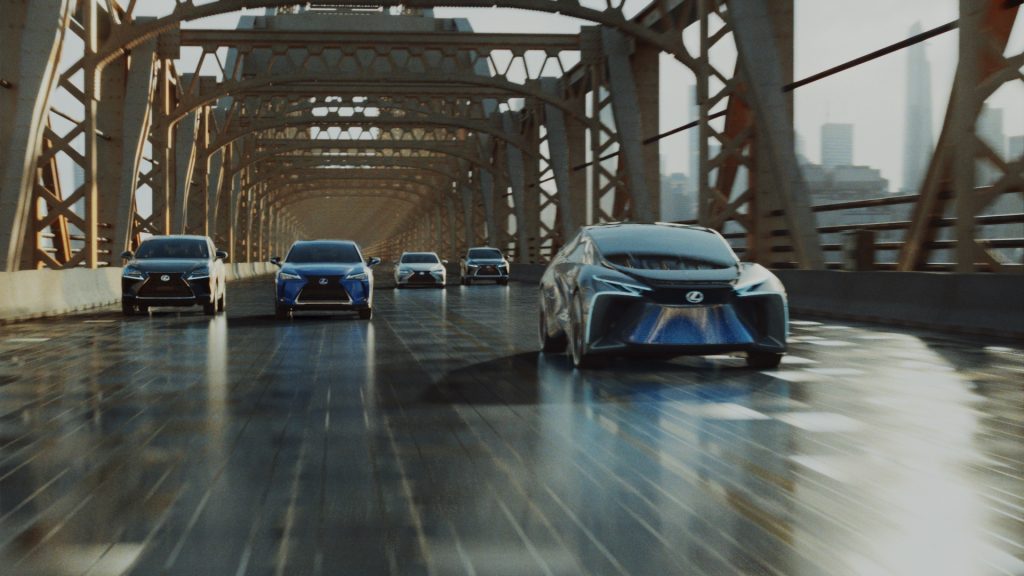 Dominic Alderson, VFX Supervisor, MPC said: "With COVID conditions constantly changing the world's working practices in 2020, we had to work out how to shoot a full car commercial with next to no shooting, and no car. We had begun to explore virtual production with a core team already, so we took that experience and applied it to Lexus, doing a full virtual shoot inside eight different CG environments over five days – all using standard shooting techniques, call sheets included! With Jaron Albertin directing remotely through a live session, we were able to build out over 35 shots with 20 to 30 camera options per shot. All of this was then compiled to build our edit. It was exciting to marry the creative vision of Jaron's artistic film direction alongside our incredibly technical toolset in a way that we hadn't really explored before."
Jaron Albertin, Director said: "The virtual shoot really opened my eyes to what is possible; there was a real feeling of discovery in this process, and it was a lot of fun. The project itself encapsulated the ethos of Lexus by pushing creativity with new technology. The concept was a textural and sensory one; a chance to see feel and touch what tomorrow could look like by using the LF-30 as a reflection into this near future."
The full campaign, spanning films, social carousels, digital banners and imagery, will be promoted on VOD, social media, in online display and live on Lexus websites. With assets tailored to individual markets' needs, the campaign delivers on an international scale.
Source: The&Partnership