MarComm's Star Parade is a series where we shine the spotlight on some of the global stars from the Marketing and Communications industry, and Harry Fairfax-Jones, Business Director, Waste Creative is precisely that.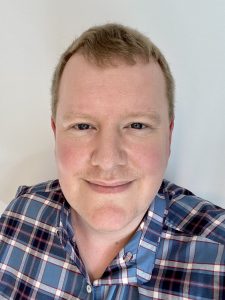 Q) Give us a brief insight into your career so far?
I have worked at creative marketing agencies, specialising in entertainment and gaming, for the last 16 years.
Having studied interactive media at Bournemouth University, I began my career as a web designer, responsible for updating and maintaining all of the Paramount Pictures UK and IE websites. At the same time, I dabbled in a bit of flash animation and actionscript.
After a few years of doing that, I realised I was more suited to a role that involved people and client management, so transitioned into project management at Waste Creative, focusing on gaming, with SEGA as my main client.
After three years, I moved from Waste and had a two year stint at Mediacom as a senior PM leading their biggest account for EA games. As they say, the grass isn't always greener and as much as I LOVED working with EA, and I'm a genuine fan of pretty much all of their games, I decided to return to Waste to plant my roots.
In the first six months back. I was part of a team that won a huge pitch to take over Supercell's global digital advertising account for Clash of Clans, Boom Beach, and Clash Royale. That was six years ago, and from then till now I've helped grow the account and relationship to become Waste's biggest client. We now work across Supercell's full game portfolio, both Global and Beta (with the exception of the game Hay Day). Waste grew quickly and during this time I also moved from being a Senior Project Manager, to Account Director, and now to Business Director.
Right now, I oversee a team of two Account Directors and four Account Managers, and together we've ridden the Covid wave and all the challenges that have come with it. We've delivered some cracking work across my two main accounts (Supercell and Riot), and the team morale and camaraderie couldn't be better.
Q) What according to you is the strongest tool in your skill set?
I'm a good "people person". This has allowed me to grow and retain strong client services teams as well as great long-term friendships and relationships with clients at all levels.
I pride myself in my ability to identify and convert opportunities that align closely with client objectives that subsequently help grow accounts.
Q) What is your favourite piece of work that you have created? Or a favourite project that you were a part of?
There are loads, however the global launch of Supercell's Brawl Stars is the one I'm most proud of.
It was an 18-month long journey where we helped foster and grow an entirely new game community from the ground up. This culminated in a launch campaign where we deleted all of the social channels and pretended the game was being killed, only for us to then globally launch the game. High risk, high reward, and it paid off.
Most of the hype we generated was organic, with very little paid support. The campaign picked up multiple awards.
Brawlstars – Global Launch Case Study from Waste Creative on Vimeo.
We also recently delivered Supercell's most ambitious developer update for Clash of Clans, which tied in with one of their biggest updates ever. Pretty epic. It was soon #1 Trending for Gaming, #31 Trending on YouTube, and has garnered 5.5 million views to date.
Teaser:
Main Video:
Q) What is your favourite piece of work you wish you had done?
I would have loved to work on the FIFA global campaigns, especially the TV ads. There was a really epic one for FIFA 14, where all of the players are driving through the desert. I chose this mainly because I'm a massive FIFA and football fan… and I want to meet Messi.
Q) Who (if anyone) has been the greatest influence in your career?
Throughout my career I've been mainly self taught, but in the early stages I received the most fruitful guidance that helped lay the foundations for my career.
I'd like to mention Felix Middleton, who gave me my first opportunity to work in the industry and taught me how to code!
Also Simon Coppleston (sadly no longer with us) who taught me the fundamentals of project management, some of which I still use to this day.
Q) What would you change about the industry, if you could?
The pace. The gaming industry can move at incredible speed, and you can't really drop the ball most of the time. I've always been intrigued to understand what it would be like to slow down a little and see how that would affect output.
Q) Tell us something that people wouldn't necessarily know about you?
I used to be a magician and child actor. I once auditioned to be Jim the Cabin Boy in Muppet Treasure Island.
Q) Where would you ideally like to be in your career in the next five-years?
I absolutely want to stay within gaming. I'm lucky enough to work in an industry that I live and breathe, and I'd never want that to change. In terms of progression, I'd like to get myself to Managing Director level within five years.
Harry Fairfax-Jones is Business Director at Waste Creative