Royal Mail has revealed a major new integrated campaign which aims to drive awareness and consideration of its Click & Drop online postage offering. The push was developed in partnership with creative agency MBA and media agency Arena Media, part of Havas Media Group, with out-of-home planned and bought by Rapport Ltd.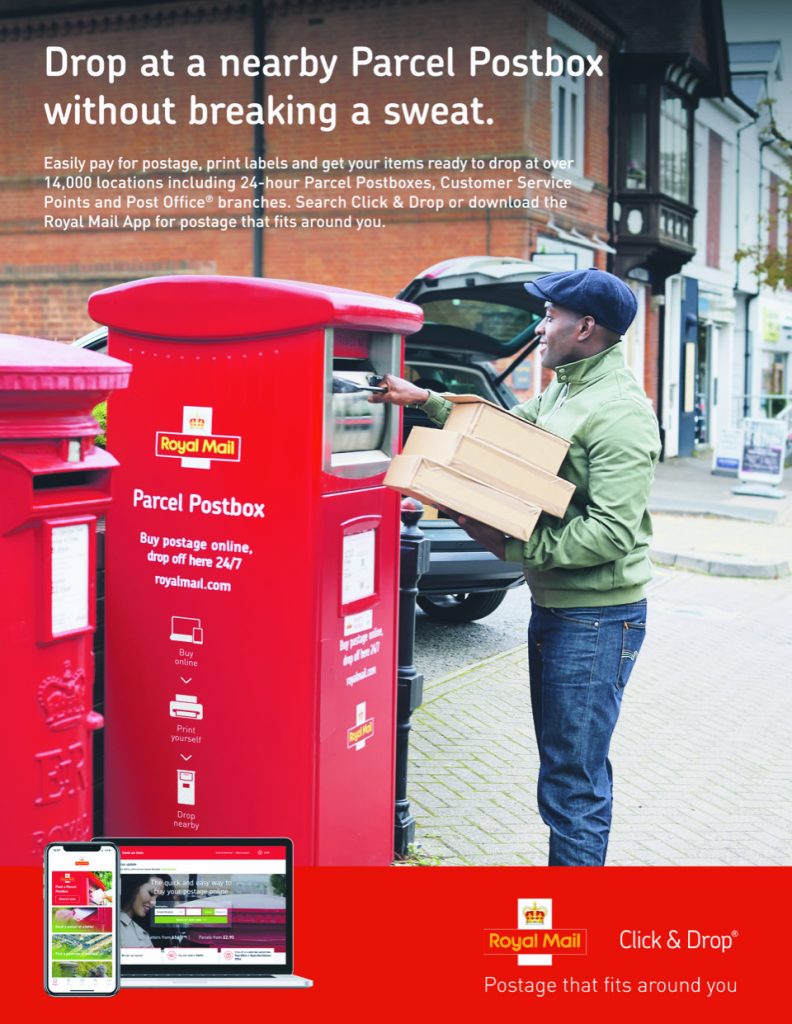 In order to boost awareness of the online postage channel amongst an audience of marketplace sellers, SMEs and consumers, Royal Mail has worked with MBA and Arena Media to create 'Postage that fits around you', an integrated campaign which highlights just how easy its Click & Drop service is to use at a time when consumers and small businesses are doing much more online. Click & Drop is ideal in making the delivery and sending of parcels easier in difficult circumstances
The ads, developed by MBA, emphasise all the benefits of the service, which enables you to pay online and print wherever you like, with the flexibility to drop parcels at 14,000 locations – with the key overarching message of Buy, Print, Drop.
Arena Media has taken an audience-first approach to media for the campaign, selecting radio and national press supported by digital display, podcasts and social to allow the distribution of a series of messages that will build awareness to ensure that consumers and SMEs understand the benefits of the service which – in the current environment – is even more essential. Rapport has developed an out-of-home plan which targets key national locations including spots near to key drop-off locations.
Natalie Thomas, Marketing and Digital Director, Royal Mail, said: "We have worked hard to respond to consumer and SME demand when it comes to parcel delivery, and this has become even more significant given that so many of us are spending more time at home now. We're delighted to be launching this campaign and we hope it will encourage many more consumers and SMES to take advantage of this fast, easy-to-use service."
James Middlehurst, Managing Partner, MBA, added: "This campaign highlights just how intuitive and straightforward Click & Drop is: it's all about the customer. The ads emphasise the benefits of the service using a down-to-earth, real-world visual style and tone that our audience can relate to."
Abi Ward, Managing Partner, Arena Media, part of Havas Media Group, said: "Following five great years of working with Royal Mail, it's fantastic to be launching our first consumer-facing brand campaign for parcels. Our audience-first approach harnesses the channels we believe are best for delivering a complex message and motivating people to make a significant change in behaviour."
Source: Royal Mail