The move marks new collaborative approach and retires traditional role of sole CEO.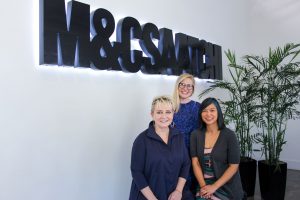 M&C Saatchi LA today officially announced a new joint leadership structure to power the business into 2020.
Kate Bristow, Chief Strategy Officer & Partner, Maria Smith, Chief Creative Officer & Partner and Rebecca McGough, Managing Director & Partner will jointly run the agency.
All three will retain their individual responsibilities leading their departments, drawing on their respective disciplines to jointly make the big business decisions. The forward thinking move follows the sad death of Huw Griffith who was the last to hold the title of sole CEO.
Kate Bristow, Chief Strategy Officer "Last year was obviously one of huge loss, heartbreak and challenges but I am excited about the future ahead. This new leadership is not only ground-breaking for our agency and clients but for the whole industry. We are used to seeing the CEO role fulfilled by just one person but Rebecca, Maria and I saw an opportunity to completely revolutionize that role. We decided to reimagine the "traditional" CEO function and start a new highly collaborative, women-led era at M&C Saatchi LA."
As part of this new structure, Kate, Maria and Rebecca are refreshing their approach to client relationships and new business. Embracing the M&C founding principle, Brutal Simplicity of Thought, they are choosing to be more selective with opportunities to ensure that it is the right decision for the business, staff and clients.
Rebecca McGough, Managing Director "The industry is changing at an extraordinary pace, with fewer retained clients and more preferring ongoing project relationships. This has required us to learn how to pivot quickly and seamlessly to service our clients' needs."
Maria Smith, Chief Creative Officer "We each bring a slightly different piece to every big business decision. And we've found that we are able to make decisions more quickly and more efficiently, simply by being in the same office and literally sharing desk space. Our collaboration is constant and fluid. We've found it to be incredibly important and beneficial to the way we run the agency."
While Rebecca is currently on maternity leave, Kate and Maria will be speaking at World Forum Disrupt's Women in Marketing Conference on the 6th February in LA to share their journey, and the lessons they have learned along the way as they embark on a new model of collaborative leadership. For more information visit: https://www.worldforumdisrupt.com/women-in-marketing-la-2020/
Source: M&C Saatchi