Move over Molly Mae, there's a new creative director in town. The Nation's favourite chip brand McCain has today unveiled RuPaul's Drag Race star, Baga Chipz as its new creative director.
As part of the brand's 'Anything Goes' campaign, Baga will be bringing glitz and glamour to the kitchen as part of her new role to inspire the nation to enjoy their midweek teatime. Created by socially-led creative agency We Are Social, the campaign targets a Gen Z audience, placing emphasis on how 'Anything Goes' when it comes to the midweek meal; not only what you eat, but where you eat it, how you eat it and with whom.
With McCain a firm family favourite, the social-first campaign connects with a Gen Z audience, expanding the brand's reach to a new demographic. 
Seven films will see the drag star cooking up a series of potato-based dishes, all with her unique twist, which will go live on Baga's own Instagram channel.
The self-proclaimed "Queen of Chips" will share her own fabulous take on British classics – from the iconic chip butty to the beloved potato Smiles and beans. The films are packed with Baga Chipz' iconic innuendos, framing the midweek meal occasion as the perfect time to forget the rules, unwind and enjoy the things you love.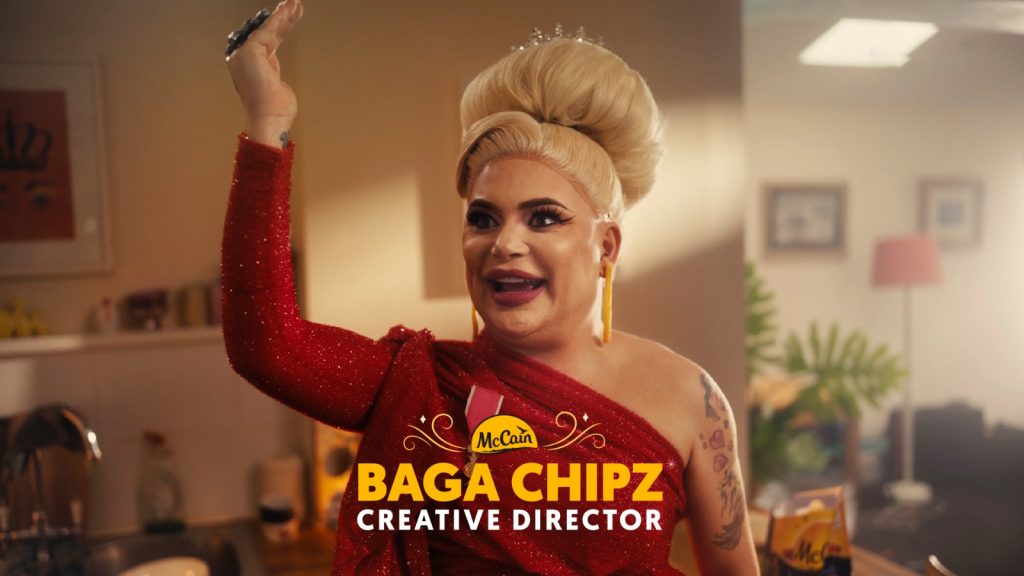 Mark Hodge, Marketing Director at McCain, said: "The midweek meal is always deemed as nothing special, but we wanted to flip this narrative and what better way to do this than with the help of drag star Baga Chipz? Connecting with a Gen Z audience through tongue-in-cheek humour, the films frame the midweek meal as a precious time to let loose, on your terms."
Angus Flockhart, Group Account Director at We Are Social, commented: "We're so excited to have unveiled our new creative director, with this series of films perfectly encapsulating the cheeky, 'Anything Goes' attitude of Baga Chipz. Finding favour with a demanding Gen Z audience, we wanted to show that when it comes to the midweek meal occasion, there really are no rules."
McCain
Mark Hodge: GB Marketing Director
Joanna Eastwood: Marketing Controller, Brand Building
Lizzie Pyle: Senior Communications Manager
We Are Social
Angus Flockhart: Group Account Director
Sam L'Etang: Account Director
Rachel Eades: Senior Project Manager
Danielle Melia: Creative Director
Joshua Crossley: Senior Creative / Art Director
Stephanie Gane: Senior Creative / Copywriter
Rhiain Morgan: Editorial Director
Zanna Wharfe: Strategy Director
Charlotte Temple: Senior Designer
We Are Social Studios
Angelica Riccardi: Senior Producer
Brooke Lagana: Producer
Keri Douglas: Production Coordinator
Source: We Are Social