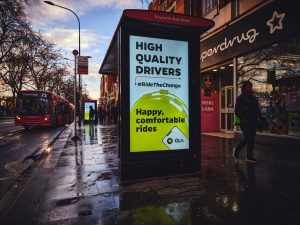 Media Agency Group has just unveiled a multi-million-pound campaign for one of the world's largest ride-hailing apps, Ola, who recently launched in London. It increases the awareness of Ola's services in the capital, namely its safety and market leading features and partnerships.
Ola launched into the UK market in 2018 and has worked with Media Agency Group to build its brand in Bristol, Exeter, Liverpool, Bath, Reading and Cardiff – where it has received an overwhelming response providing about 3 million rides.
A teaser campaign has already launched across London. The full campaign, featuring the strapline 'Change is Coming', is set to hit commuters, shoppers, tourists and lifestyle audiences this week.
The campaign uses a strategic deployment of media with digital-out-of-home paying emphasis on adapting the content and messaging to target the specific audiences as they vary throughout the day.
John Kehoe, CEO of Media Agency Group said: "London is one of the world's biggest markets for ride-hailing services this is a great move for Ola. They have already hit the No1 download spot on the app store and signed up over 20,000 drivers to its app and we are certain their brand will catapult over the coming weeks as the campaign builds momentum across the capital. This campaign incorporates a mix of media including press, digital, radio, TV, out-of-home and Podcasts, which will be influential in building their market share in London and the surrounding areas and on the back of the successful work already delivered in other areas of the UK".
Ola was founded in India in 2010 and is operational in more than 250 cities and does over a billion trips a year. Their platform offers a range of security features, such as a 24/7 helpline for drivers and customers and an in-app emergency button.
Arun Srinivas, COO, Ola said: "The Media Agency Group has played an important role in the progress Ola has made in the UK. We look forward to building on our success by offering a differentiated service to Londoners, focused on quality, safety and reliability."
Source: Media Agency Group