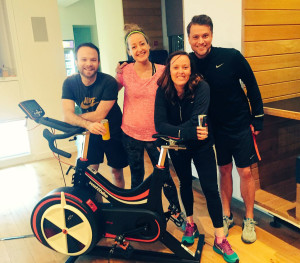 NABS (National Advertising Benevolent Society) has announced that it will be launching a brand new sporting fundraiser, 'Ride Adland', in October 2016, inviting teams across advertising and media to take part in a cross industry cycling event. The new event has been introduced to align with NABS' focus wellbeing and community in our industry.
Ride Adland will require teams to complete a set distance over two days. However, rather than compete in an outdoor environment, the competition will be completed using static indoor high-performance bikes delivered direct to each competing company's office. Leader board technology will link all competitors to show live results of the competition, driving excitement and team spirit.
Teams of riders can take part from each company, by signing up to cycle a set distance or time slot as part of their in-house relay team. Teams entering the competition will be in with the chance of winning the coveted NABS Orange Jersey presented at a post event celebration. The competition is open to all within ad and media land regardless of experience or skill level.
The industry cycling event will replace NABS' long-standing Rugby 7s tournament. NABS' decision to end the annual tournament is part of its focus to ensure its events appeal to and are inclusive of all members of the industry. In its 54 years, Rugby 7s has raised over £1.5 million in real terms, helping NABS perform its vital support work across the advertising and media industry.
Diana Tickell, CEO, NABS, said: "Ending the Rugby 7s after 54 years was a difficult decision for us to make. It has been an amazing event, which has brought in great amounts for NABS in the past as well as bringing adland together. Cycling is a popular sport in advertising and media, and we wanted to ensure that we create events that allow more people to take part. We believe that our Ride Adland competition will bring in the same level of determination and sportsmanship as the Rugby 7s.
"There are so many to thank for being a part of Rugby 7s, in particular our committee chairman Derek Hewitt (Global Radio) and tournament director Charles Kenny, who have together dedicated more than 50 years between them to the competition. We would also like to thank our committee, Charlie Curtis (Moriati Media), David Goddard (BBC), Mike Hope-Milne (Pearl & Dean), Tim McCabe (Communicorp), and Will Northover (Blackjack Promotions). And of course thanks also to all those who took part and supported us throughout Rugby 7s' history. We hope to see you take that positive competitive streak and bring it to Ride Adland."
Derek Hewitt, Rugby 7s committee chairman, NABS and group business director, Global Radio, said: "It's been fantastic being a part of Rugby 7s over the last 20 years and seeing so many throughout the industry get stuck in to help raise money for such an important industry lifeline. I am looking forward to the introduction of Ride Adland and to see more of the industry involved in such an exciting and challenging competition.
"Of course, a huge thanks goes to all who played, watched and contributed to NABS during the Rugby 7s tournaments over the last 54 years. Without your passion, teamwork and competitive spirits, the Rugby 7s tournament wouldn't have become the successful event it was."
Ride Adland is expected to take place Wednesday 5th October until Thursday 6th October 2016.