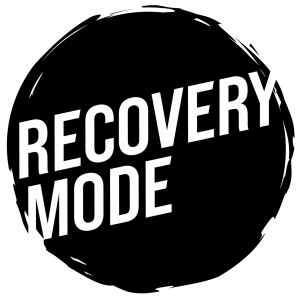 With a series of inspiring and entertaining events, support groups and a planned 'Digital Community Hub', Recovery Mode aims to create a positively charged society. A society that thrives on creativity and collective spirit, with nobody left behind.We say you can have a massive f***ing laugh in life without dependency on bad drugs and alcohol. Whether you have simply decided to live a live less intoxicated, or suffer with chronic addiction, we want to help provide the much lacking 'aftercare' we need to stay healthy and happy for the rest of our lives.
BUSTING OPEN THE ADDICTION STIGMA AND CELEBRATING RECOVERY.
Although in no way limited to the creative community, drug and alcohol dependency is rife in our industry. It has been for years, but in the last 12 months or so of lockdowns, job losses and general fear, dependency and addiction has shot through our collective domestic roof.
According to official statistics, in the last year alone, more than 8.4 million people in the UK have raised concerns, or been in need of help and advice from the healthcare system – and that's just the ones that have come forward.
The stigma and shame attached to such admissions is crippling society – suppressed anxieties over accepting and declaring a condition is, in itself a downward spiral, leading to further pain for individuals and their families. A recent report into the issue suggested a huge proportion of people just won't come forward and seek the help they need.
And for those that do take on their demons, once through counselling and rehab, not much exists to help and support the much needed aftercare required to avoid remission and the repeat cycle.
This has to stop. Recovery Mode is a newly founded social enterprise that aims to bust open the stigma and support and celebrate those in recovery; with information, inspiration and a place to feel good about themselves. 'Recovery' is not a place, it's a lifelong destination, so support is always going to be needed and Recovery Mode intends to be there.

BRAND LAUNCH
To launch the brand, the team has created an in-house social media campaign, initially to raise awareness of the issues surrounding drug and alcohol missuses, but also encouraging people to engage with the cause.
The team is looking to hold live launch and promotion events across the UK – with a host of inspirational speakers and entertainers in the form of comedy, live music and DJ sets.

We are also supporting grass-roots local organisations set on helping people maintain positive recovery through creative outlets, such as performance and the arts.
Recovery Mode has applied for National Lottery Community funding to get the digital hub off the ground, but we are looking for wider support, in terms of donations, funding, sponsorship and volunteers to help our not-for-profit business really penetrate the UK's hearts and minds.

If you are interested in helping, please contact dj.recoverymode@gmail.com. Or go to the join our community page at  https://recoverymodeshop.com/ where you can also find supporting merchandise.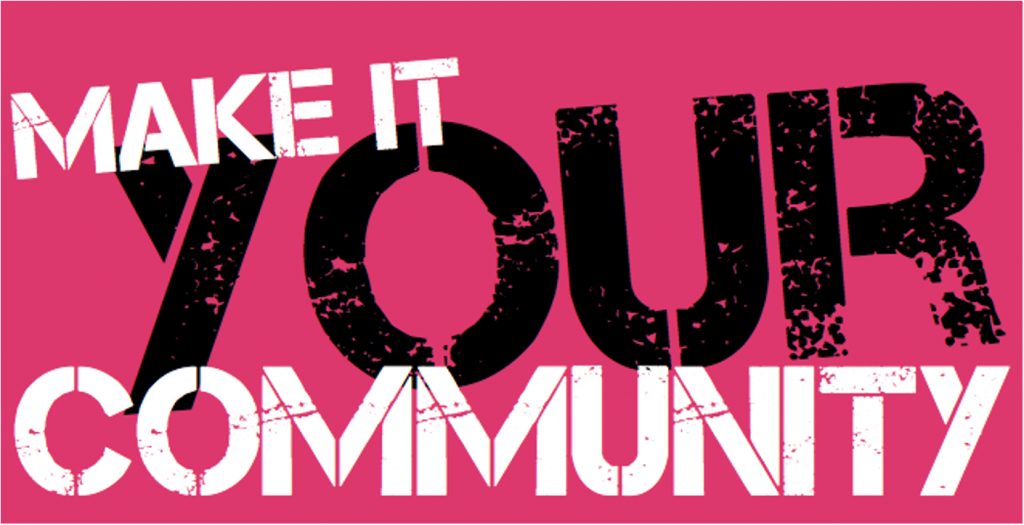 FOUNDERS AND FOUNDATION
Set up by two lifelong friends, Jack and DJ, along with other family and friends, the aim is to create a UK wide digital 'hub' for anyone interested in helping themselves and each other stay on the journey.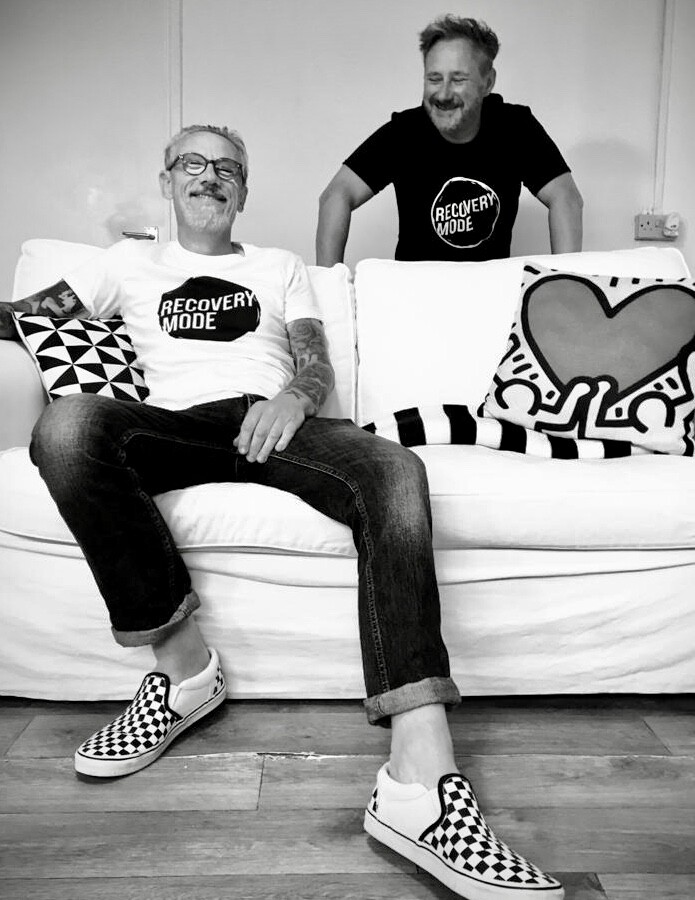 Since the age of six, living four houses apart, Jack and I have toyed with the idea of having a project that we could work on together – as kids it was building camps for Action Man, as young men we wanted to start magazines and make art. But distance, distractions and occasional disagreements seemed to prevent this from manifesting.
Now as old boys, we're finally making it happen. After much talk and planning, together with Jack's son Alex and some other good friends, we are about to embark on a side-hustle purpose-venture that will hopefully help countless people enjoy a happier, more creative state of recovery from bad drugs and alcohol dependency.
Jack has 35 years of experience in the front-line of mental health and D&A counselling, DJ has equal number years of experience working in branding and communication – for many household brands and charities. They both know the effects of misuse and impact on others, so the pair decided to take action. 
FUND-RAISING MERCHANDISE
We are going to be collaborating with a number of fashion designers and artists to create ranges of great gear. The talented young designer Caitlin Yates is our first collaborator.
Caitlin is a London-based menswear designer and founder of C8Y8S, an independent brand with a focus on print and textiles to portray personal narratives. Yates' work is radical and political with sharp silhouettes counterbalancing the frantically sketched marks with salvaged cut and paste prints.

Yates studied BA Fashion Design at University of Westminster and has previous work experience at MCQ, Alexander McQueen, ASAI TA and Martine Rose.

CREATIVE DIRECTION
The brand's look is deliberately naïve, aiming to be somewhat 'anti-design', influenced by the early punk graphics, with a home-made feel to everything – including photography.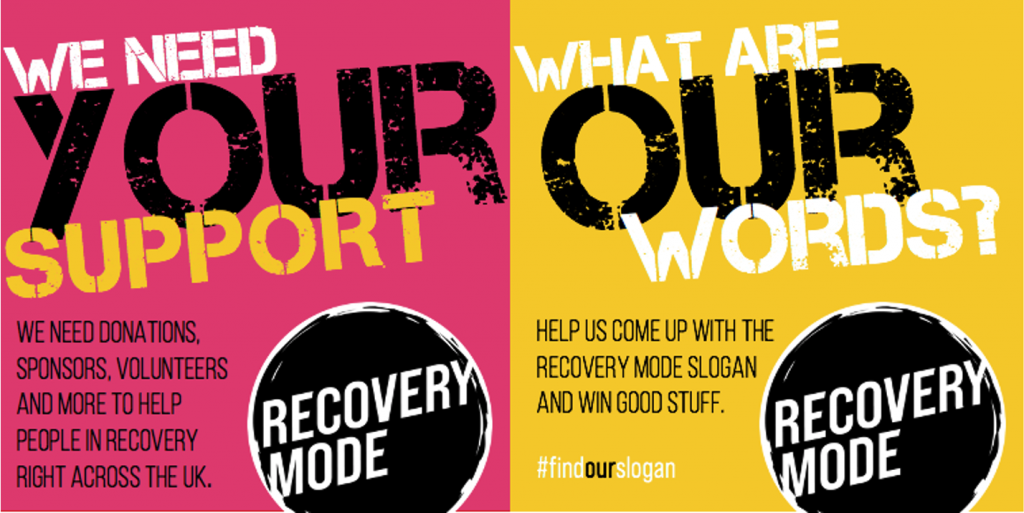 "We want the brand to be 100% inclusive, not a designer brand – it's a people's brand. Early styling was simply black, white and red to get a visceral, impactful launch, now we are moving towards a colour palette, still with black, but also hot pink and bright yellow to be a little less hard-nosed". Says DJ Johnston.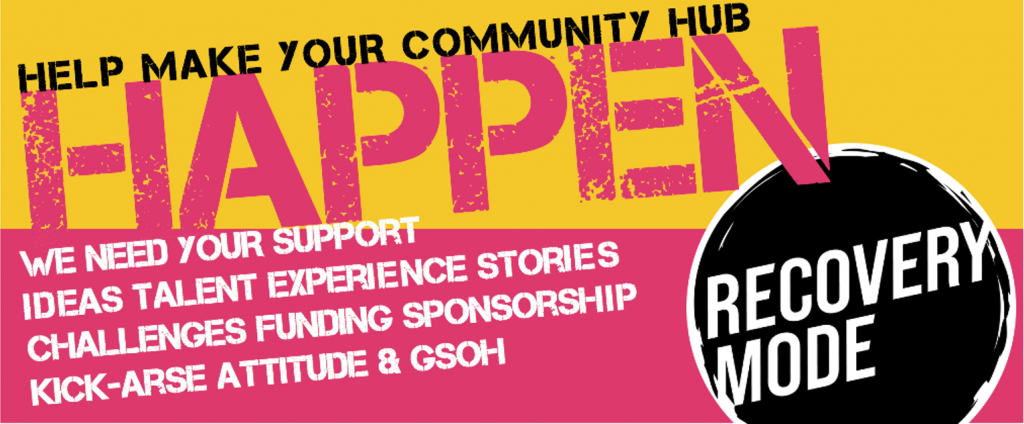 Source: Recovery Mode