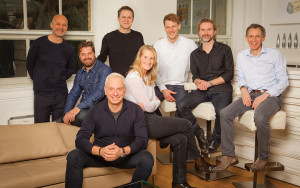 Leading brand design agency Pearlfisher, with teams in London and New York, is joining forces with prominent Danish designers, led by Jesper von Wieding and David Ramskov, to establish a multidisciplinary design team in Copenhagen.
Looking to extend their experience working with some of the world's most desirable Challenger and Iconic brands, and their existing strong relationships with Nordic clients including Froosh, Arla, Interflora and Lantmännen, this new opening will enable Pearlfisher to bring its unique 3 Studio approach of Futures, Strategy and Design to brands in the region.
Jonathan Ford, Pearlfisher Founder Partner & Chief Creative Officer said, "Pearlfisher prides itself on both great design and building successful long-term relationships and we believe that when the two come together, something incredibly special can happen. Jesper von Wieding, who will head up the new team, is a talented and passionate designer and is a close personal friend of Pearlfisher's and mine. We felt that now was the right time to take our friendship into a more formal working relationship and establish a new team in the Nordic region to create the bold, lucid and original work that Pearlfisher is so famous for."
He continued, "And, as other design agencies now look to open in the East and America, we are excited to be making the unexpected move to a new home in Scandinavia – one of the world's most highly reputed centres for design excellence."
Jesper Von Wieding will assume the position of Strategic Creative Director. An award-winning designer with over 25 years industry experience working with some of the world's leading brands and agencies, he also serves on the board of the trade association for Danish Design companies – Design Denmark, as well as Creative Circle – the biggest annual advertising, design, and digital award in Denmark. David Ramskov brings over 10 years experience in the digital design industry with particular expertise in e-commerce and transactional digital innovation and will assume the position of Managing Director. The other members of the team will include Thomas Kjær as Creative Director, Tim Larcombe as Strategy Director and Tobias Wandrup as Head of Industrial Design.
Jesper von Wieding commented, "We are thrilled to be joining forces with Jonathan and the team as we have always admired the distinctive and bold approach that Pearlfisher takes with its extraordinary breadth of clients. And now we can work together to bring that offer to Scandinavia, making sure we are creating groundbreaking design for the region's best loved brands."