The GREENIES brand is introducing Doggy IQ, an interactive online test that takes a humorous approach to helping pet parents determine if their dog is a bone-afide genius. In return for completing the test, dog owners will receive a rebate on GREENIES Dental Treats. The test, which was developed by creative agency adam&eveDDB, features three tail-wagging tasks that tests dogs' learning ability, memory and navigational skills, while providing quality bonding time for pets and their parents.
"Dog owners know that our four-legged friends don't always make the best decisions, like thinking your socks are a chew toy or that standing right behind you is a smart place to be," said Craig Neely, Vice President of Marketing at Mars Petcare. "That's the idea behind Doggy IQ. We're offering a fun bonding experience for pets and their owners, while celebrating the quirks that make our dogs loveable and, of course, rewarding them with dollars off our delicious and good-for-you treats."
To put your pooch to the test, pet parents will need a handful of kibble or small treats, three plastic cups, two chairs and one blanket. In about 15 minutes, test takers will find out their pup's Doggy IQ score.
As this humorous test will surely show, some dogs may score as a "doggy genius," while others may be on the other end of the scale. Luckily, pet parents need not fret, because while their dogs may not be top dog, dogs don't need to know what's good for them to love the taste of GREENIES Dental Treats and reap the oral care benefits. That's why every dog that takes the Doggy IQ test gets to celebrate their results – no matter how impressive – with the howl-worthy reward of a rebate on GREENIES Dental Treats. After finishing the test, owners can brag about their smarty pants pup – or perfectly average pet – on social media with custom badges based on their dog's scores.
To develop Doggy IQ, the GREENIES brand worked with canine intelligence researcher Dr. Rosalind Arden, an Assistant Professorial Research Fellow at the London School of Economics with a PhD in Behavioral Genetics. Dr. Arden lent her knowledge to the brand to help develop this light-hearted and playful test for dogs and their owners.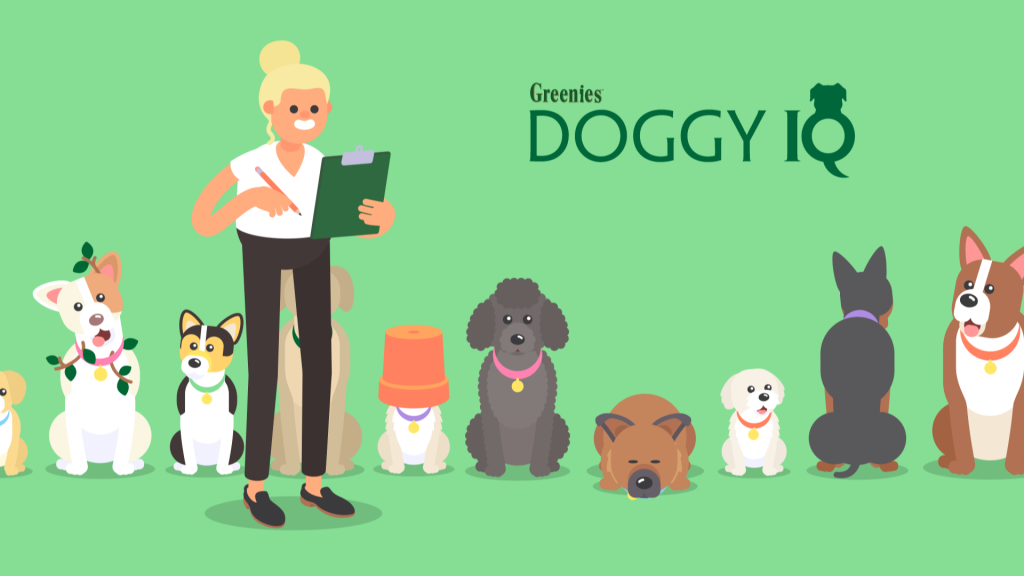 GREENIES Dental Treats are an ingenious way pet parents can help care for their dog's teeth, by giving them a tasty treat that helps clean their dog's teeth and freshen their breath. Veterinarian-recommended for dental care, their chewy texture fights both plaque and tartar and helps maintain healthy gums. They are made with natural ingredients plus vitamins, minerals and nutrients and easy to digest, highly soluble ingredients.
To take the Doggy IQ test, visit DoggyIQ.com on a desktop or mobile device. For more information on GREENIES Dental Treats, visit www.Greenies.com, Facebook.com/Greenies, Instagram.com/Greenies or Twitter.com/Greenies.
Sophie Knox & Helen Balls – Art directors
Miles Carter – Copywriter
Source: GREENIES