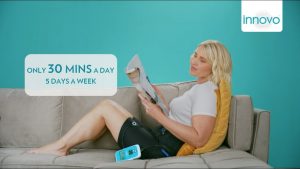 Quiet Storm has been appointed global lead strategic and creative agency for INNOVO, a game-changing, wearable tech product designed to strengthen your pelvic floor in order to treat incontinence and assist with other pelvic health conditions such as sexual dysfunction.
Bladder weakness, also known as urinary incontinence, is extremely common, with 1 in 3 women and 1 in 10 men in the UK suffering the condition. It is often portrayed as untreatable, encouraging sufferers to manage their problem with absorbent pads and pelvic floor exercises, which can be difficult to get right.
Quiet Storm has been tasked with raising the global profile of the INNOVO brand and will launch a multi-channel campaign in 2020. INNOVO is safe, effective, non-invasive, and backed by strong clinical evidence.
Susanne Judd VP Marketing commented: "Quiet Storm impressed us with its bold, creative thinking. For too long, the taboo around bladder weakness has left millions of women suffering in silence, unable to enjoy their lives to the full. Quiet Storm understands this challenge and will provide a refreshing approach to help us to rapidly spread the message that bladder weakness is treatable with INNOVO."
Rania Robinson, Quiet Storm's CEO and partner added: "It's not every day that you get to work on a product with the potential to genuinely transform so many lives. Quiet Storm has developed a campaign designed to unleash that potential for INNOVO, encouraging women to actively seek this solution to their condition and regain their lives. We can't wait to get started."
Source: Quiet Storm