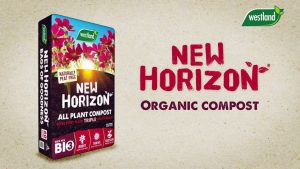 Westland Horticulture, a market leader supplying a wide range of gardening products to the retail market in the UK, Ireland and Europe, has appointed Quiet Storm as its lead strategic and creative agency. Quiet Storm won the brief after a competitive pitch, which was run in-house.
The first work will appear in April 2020, supporting Westland's revolutionary peat-free compost brand; New Horizon.
This is a huge launch for Westland, which has spent 18 years and £35 million developing their peat free offering. Coming in three varieties – all plant, all vegetable and a tomato planter – New Horizon means gardeners no longer have to compromise by choosing between the best compost for their plants or a peat-free, eco-friendly one; it now comes all in one product.
Keith Nicholson, Marketing Director at Westland, said: "New Horizon is a game-changing compost, and we want to make sure that the marketing campaign behind its launch is worthy of the immense resources and passion that have gone into its development. Quiet Storm demonstrated that they really get what Westland is all about and we're now eagerly awaiting spring and seeing how consumers react to the campaign."
Rania Robinson, CEO and Managing Partner at Quiet Storm, said: "We are always so thrilled to partner up with forward-thinking brands and we were really inspired by Westland's progressive brand purpose. We're really looking forward to getting started on all of the great Westland brands and especially helping New Horizon get the fame that this revolutionary new product deserves."
Source: Quiet Storm