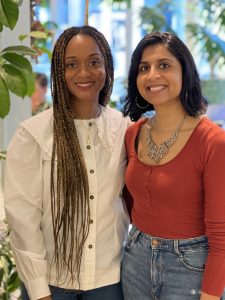 Creative X's Jayshree Viswanathan and Anyone's Amy Dick have been named as SheSays' new London Joint Presidents.
Taking over the position from Ogilvy's Joyce Kremer after her successful two-year term, Jayshree and Amy are both change advocates in the creative industry. They have both been actively involved for several years in SheSays' global creative network for women in a variety of roles.
Jayshree recently joined Creative X at Meta as a Senior Creative and has been previously named a Campaign Future Leader and was part of the Google RARE Leadership cohort. Amy is Head of Impact at Anyone, an app democratising access to high value networks, via 5 minute 1:1 calls. She sits on the Advisory Board for University of the Arts London, setting strategic direction to future proof the creative industries – and is also named in The Dots 100 Rising Stars.
With 70,000 members in over 55 cities SheSays is an influential global network, and both Jayshree and Amy bring a wealth of experience to the position and have innovative plans for the coming months.
Jayshree Viswanathan and Amy Dick, SheSays London Joint Presidents comment: "The past few years have been tough for many womxn and underrepresented groups, but we are starting to see progress once again. We plan to make positive change happen and continue the work SheSays has been doing to transform our industry, as well as support and inspire our growing community."
Alessandra Lariu, Co-Founder of SheSays added: "Jay and Amy are two trailblazers who will help our community to change the system from within. I'm so excited to have them lead us!"
Source: SheSays