Last year, nearly 6 million minutes of Summer songs were streamed each day during the Summer season on Spotify Free. While summer may look a bit different this year, feel-good playlists are ideal for throwing your window open or heading outside to soak up some sun, so it's no surprise that we've seen a 245% increase in summer-themed playlists in recent weeks.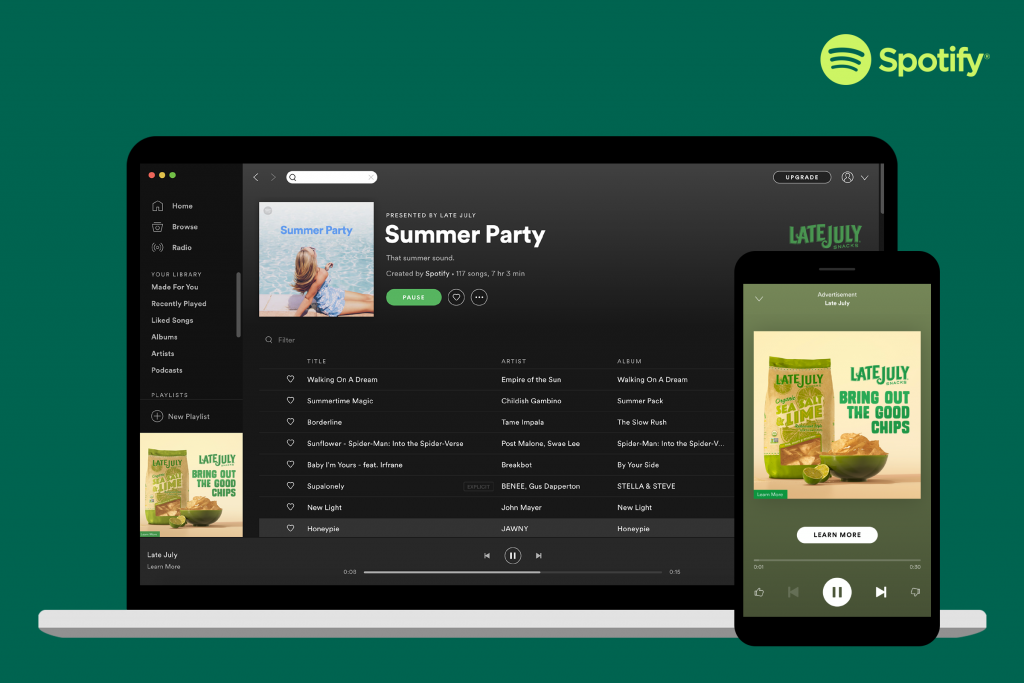 This month, as Summer continues to warm up, so will Summer playlist listening, and Late July snacks is turning up the heat by taking over Summer on Spotify as part of the brand's first-ever national advertising campaign, "Bring Out the Good Chips," since its founding nearly 20 years ago. The multifaceted campaign taps into Spotify's suite of summer-themed playlists in a full-season takeover from a brand on the platform. 
Launching on Spotify in late-July, the campaign will feature a summer loving audio spot placing users right in the Summer mindset with the undeniable sounds of the season. Think: drinks being poured, music rocking and tortilla chip crunching. The Late July brand will also take over two of Spotify's most popular Summer playlists through the end of the month including Summer Party, Summer BBQ, Your Summer Rewind and New Music Friday. 
This campaign is just the latest example of how brands are using Spotify to get creative with their marketing strategies and take advantage of the power of audio advertising. In June, Burt's Bees launched its first Spotify playlist, "Nature Break," offering listeners an enriching connection to nature, designed to enhance their personal wellness.  Anytime Fitness also recently used Spotify to curate playlists for its Virtual Workout classes, and the U.S. Census Bureau turned to Spotify to reach young audiences as an alternative to in-person canvassing and we continue to see brands finding fun new ways to connect with their audiences with audio.
Source: Spotify