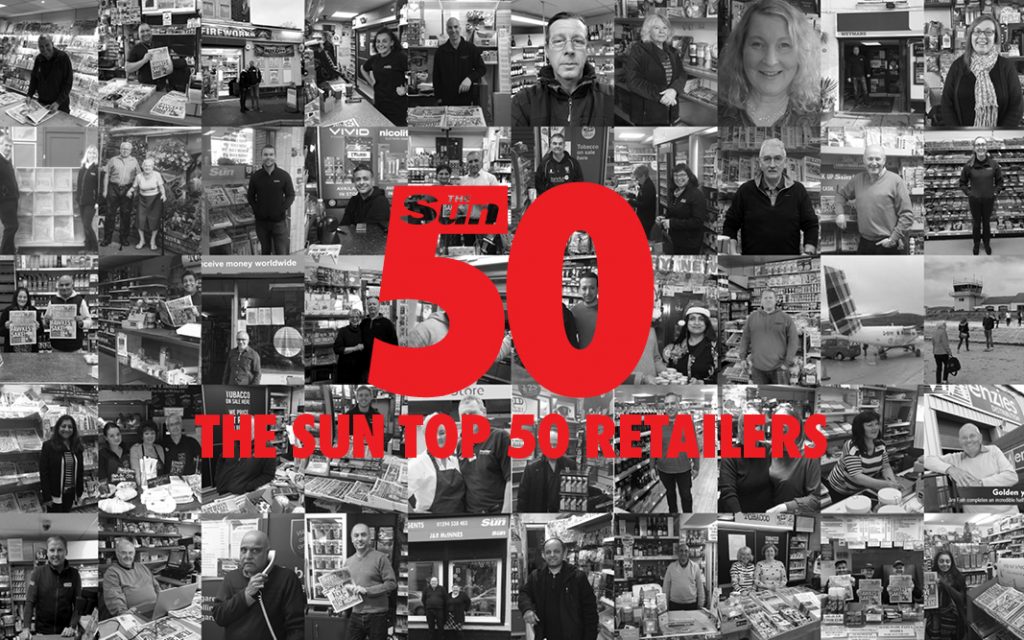 To mark The Sun's 50th birthday, the newspaper has today announced its Retail Top 50 list of independent retailers who have all gone above and beyond, championing The Sun brand and launching charitable initiatives to improve the lives of people in their communities.
Top of the list is 'The Telegraph News' store in Swadlincote, Derbyshire which has been renamed as 'The Sun' to recognise the store's efforts in selling over two million copies of The Sun newspaper and being a leading Sun brand advocate.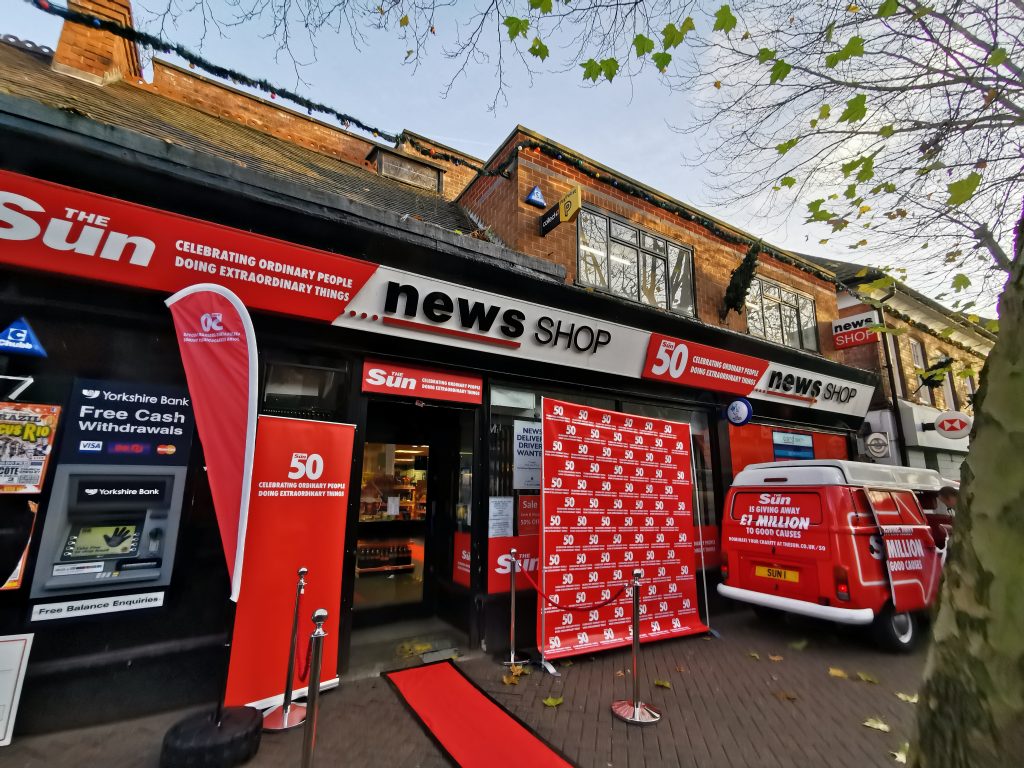 In a special Sun 50th birthday present for retailer Mark Titterton and his team at James Retail, they received a brand new fascia complete with Sun branding and a £250 voucher to donate to a charity of their choice.
The donation follows the launch of The Sun's year-long, £1million charity reader fund in Monday's paper. Readers can nominate a charity to win up to £20,000 and can be nominated at: THESUN.CO.UK/50
Fourteen other 'Sun champion' retailers, selected for their loyalty to The Sun brand and support for their local communities were also rewarded with £250 and a Sun makeover, with the rest of the Top 50 receiving a commemorative Sun 50 birthday plaque and pride of place in The Sun's Top 50 Retailers list.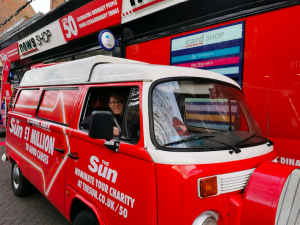 A Sun branded campervan visited retailers across the country this week to help drive sales for stores, with roving reporters on board to capture all the action.
Other retailers in the top 15 include Meet and Deep in Twickenham.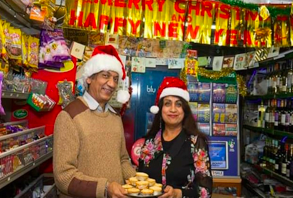 For 20 years Meet and Deep has been at the centre of the local community. The store opened 364 days a year until one Christmas Day a regular customer knocked at the family home and begged for the store to open so he could purchase a phone card to make a special Christmas Day call to his mother. Every Christmas Day, the store now opens and serves mince pies and drinks to the community which has gone viral leading to donations for mince pies from as far afield as the USA.
Meanwhile Dalry based newsagent Pauline Devlin's daughters Rebecca and Jessica have collected over 10,000 of The Sun's Books for Schools tokens to help children and schools in the local area. They achieved this huge feat by putting a voucher drop box on the counter and encouraging all customers to drop their vouchers in the box when they visited the shop. They even managed to convince non-Sun customers to purchase the newspaper and donate their tokens. As a result, they were able to help three local schools; Dalry Primary, St Paladuis and a primary school in Irvine.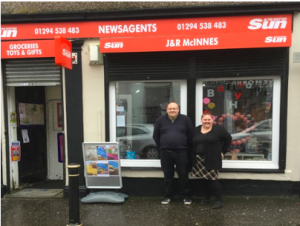 You can read the list of the full 50 retailers on Sun Online here.

The Sun editor-in-chief, Tony Gallagher said: "On this very big birthday, there's two groups I especially want to thank along with our hard-working journalists. Our readers, without whom we would be without purpose. And our retailers, who work tirelessly across the country, getting up at the crack of dawn every day to sell our newspapers. A social history of Britain has been told through these pages for the last 50 years and we continue to set the news agenda and campaign to make a difference. Congratulations to our Top 50 Retailers who have gone about their work with quintessential Sun zeal and a big thank you to all our retailers for your continued support over the past 50 years."
News UK Head of Retail Marketing Chris Hughes said: "Selecting our top 50 retailers was no easy task, as we know how hard all of our 52,000 retailers work. The Sun 50 campaign, and its reader fund, is celebrating ordinary people doing extraordinary things and that's exactly what our retailers have done. From finding innovative ways to champion and sell The Sun brand to campaigning vigorously for local causes and looking out for those in need, they have all proved to be bastions of their communities. Thank you for all that you do."
Retailer Mark Titterton said: "We're proud to rename our store as The Sun."
Source: News UK