Tribal Worldwide has teamed up with Great Ormond Street Hospital Children's Charity (GOSH Charity) to launch Little Pictures, Big Difference – Christmas greetings with a difference. The pro bono project sees global total experience agency, Tribal digitally illustrate festive-themed drawings by the young patients at GOSH which anyone can send in exchange for a voluntary donation to the charity.
The public can visit  www.goshlittlepictures.co.uk to choose their animation, enter the email of the recipient and write a message to be sent alongside the digital illustration. They will be prompted to make a donation via GOSH Charity's JustGiving page once they have sent their greeting. The money raised will help GOSH to provide the resources and support for more seriously ill children to spend Christmas at home with their families.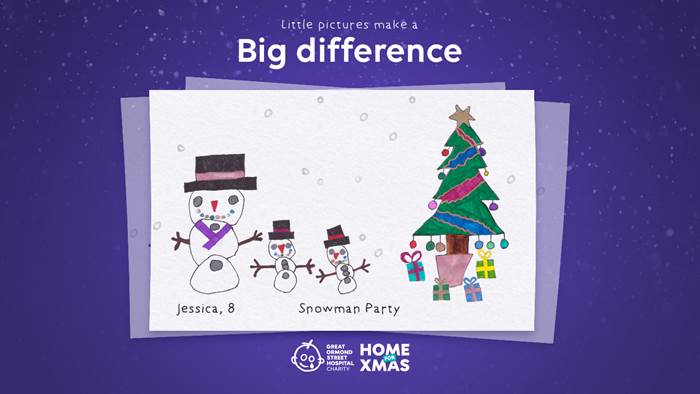 The project was developed by Tribal and focuses on the idea that children's little pictures can make a big difference when it comes to raising money for GOSH Charity, while also helping to spread some Christmas joy.
The money raised will go towards GOSH Charity's Home for Christmas campaign to fund vital resources and the support GOSH needs to get seriously ill children home as quickly as possible. That could include funding state-of-the-art medical technology, pioneering research programmes, patient and family support services and the essential refurbishment and rebuilding of the hospital. For those children who need to stay in for treatment over the festive season, the money raised will help make sure the dedicated teams can make the hospital feel like a 'home from home'.
It comes at a time when charities like GOSH Charity are facing a significant funding shortfall, with many fundraising events and activities cancelled. The hospital's dedicated staff have worked so hard since the COVID-19 pandemic hit the UK, and without them the hospital would not be able to continue to deliver the life-saving care so many children need. It's so important that the charity can continue to support the hospital, its staff patients and their families in the weeks and months to come.
Alice Wainwright, Senior Account Director at Tribal says –
"The whole team at Tribal has really enjoyed working on this project with GOSH Charity in the run up to Christmas. With everything else that's going on this year, and charities needing all the support they can get,, we wanted to put our creative energy into a project that could spread Christmas cheer far and wide. We're really proud of this work and couldn't have done it without the fantastic pictures that the children at GOSH  created. We're hoping this project will  raise vital funds for GOSH Charity and help more children to spend Christmas at home with their families."
Sophie Powell-White, Head of Account Management in the Corporate Partnerships Team at GOSH Charity commented on the project saying –
"At a time when the hospital needs the charity's support more than ever, we're thrilled to be working in partnership with Tribal on the Little Pictures, Big Difference project and are so pleased that GOSH patients have been able to get involved too with their fabulous drawings. This is a brilliant opportunity to raise much needed funds for GOSH and spread some Christmas cheer at a time when we need it most. We would like to say a huge thank you to Tribal for all their support."
Source: Tribal Worldwide