Photographer and filmmaker Gillian Laub of Verbatim, the commercial assignments agency, has directed an exclusive live performance by Aretha Franklin published this week by TIME magazine as part of its Firsts project, celebrating the achievements of 46 women who have been the first in their respective fields.
Laub's film captures Aretha Franklin returning to her father's church in Detroit, Michgan, where 70 years ago as a young girl she first performed a gospel song, to perform a six-minute rendition of "Rock of Ages".  The project also features an interview by TIME contributor Alexandra Genova.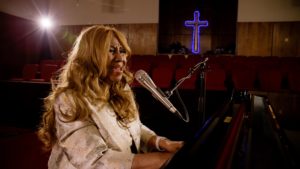 In 1987, Franklin became the first woman to be inducted into the Rock and Roll Hall of Fame after hits such as "Respect" and "Natural Woman" have made her a household name.
Gillian Laub commented: "It was such a true honour to witness and capture such an intimate performance by the great Aretha Franklin. It felt like a truly religious experience having The queen of soul sing in her father's old church.  She got quite emotional and it was very moving for everyone present.  I am delighted to have had the opportunity to contribute to TIME's excellent First's project."
Aretha Franklin is one of 46 women to be featured in TIME's Firsts, celebrating women who are the first in their field.
Source: Verbatim