Wolff Olins has appointed Wayne Deakin into the role of Global Principal. He joins the Wolff Olins global client-facing leadership team with a remit to advance and enhance their existing Experience offer.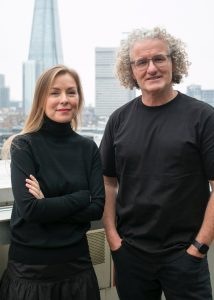 Deakin joins from Interpublic Group's global experience agency, Huge, where he has been ECD EMEA since April 2018, working with brands including Spotify, P&G, Google and Verizon with a focus on creating seamless experiences across digital, physical and communications touchpoints for brands.

He was previously Executive Creative Director of AKQA London, and also Creative Founder of JAM, then re-branded as Deep Focus and part of Engine Group, where Deakin became joint ECD for Engine in 2013.

Deakin said: "How you use data, how a button clicks, how you express values and purpose, or how you create inclusivity says so much about a brand with today's consumers and employees. Post-Covid, experience and identity are even more interwoven and interconnected than ever before as people look for much deeper relationships with brands.  Customer Experience is a sum of many parts both emotional and functional, and connecting the two is what people expect from modern businesses."

Originally from Australia, Wayne is a failed pro surfer who then stumbled into design and advertising after winning a place at A.W.A.R.D School. After working at famous agencies in Australia, he made his way around the world and also found time to earn a Master's in Cognitive Sciences along the way. His first job in Europe was at Jung Von Matt in Germany and Switzerland.

He added: "I'm excited to join the team at Wolff Olins to help push further into experience design with the global studios and work with such world class talent. I love solving challenges and I've long admired Wolff Olins for its approach to solving business problems and creating transformative brands through creativity. 
"Wolff Olins have always been trailblazers in transformative thinking and delivering iconic work that's game changing – one of my favourite examples of an early experience-led brand is the London 2012 Olympics and it's great to be joining the only place that could have pulled that off, a brand way ahead of its time. That innovative and ambitious spirit to connect brand expression and experience is why I am so excited as we move into a new consumer landscape."
Sairah Ashman, Global CEO of Wolff Olins, said: "I'm thrilled to welcome Wayne to Wolff Olins.  We're lifelong champions of transformative brands that resonate emotionally and deliver meaningfully, regardless of touchpoint or medium.  In Wayne we've found a fellow believer in the power of creativity and taking a holistic approach.  We're looking forward to doing amazing things together for our clients and shaking up what it means to deliver outstanding brand-led experiences for their customers and employees – as well as results."

Wayne has created numerous digital product and marketing world firsts. He has won over 500 major awards and his work has been highlighted as best-in-class by award shows and publications around the world. Wayne is also recognized as a leader in championing diverse talent and creativity in the digital age with the likes of the One Club, D&AD, Webbys, FAB, DMA and BIMA Creative Council and is an active creative mentor and speaker across the industry. 
Source: Wolff Olins