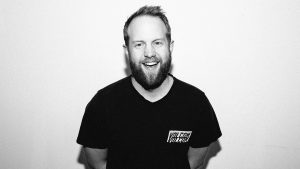 Global socially-led creative agency We Are Social has promoted group creative director Gareth Leeding to executive creative director in the UK.
Leeding was the first creative hired by We Are Social in 2012 and has since won more than 40 awards with the agency. He now oversees a multi-disciplinary creative department of 50, working with an enviable client list including Adidas, Audi, Lego, Google, Netflix and YouTube.
In his eight years at We Are Social, Leeding has been instrumental in delivering work that has led to the growth of many of the agency's flagship accounts, such as Adidas and Audi. His stand-out campaigns include Adidas' Pogba x Stormzy collaboration and the dark social-focused Tango Squad FC, as well as creating Guinness Coffee to help the brand reach early morning UK audiences during the 2019 Rugby World Cup.
Two years ago, he co-founded the agency's first division, We Are Social Sport, with the aim of rewriting the rules of sports marketing. The division now accounts for 30% of We Are Social's overall revenue, and has brought in new clients including Guinness, MLB and Pepsi. He will continue to oversee the creative output of the division.
In 2015, Leeding featured in Campaign Magazine's 'Faces to Watch', and has become a frequently requested public speaker and judge for the likes of D&AD and BIMA.
Leeding will report into We Are Social's UK chief executive, Jim Coleman.
We Are Social is on a hiring spree in its creative team after picking up a record number of new clients in 2019. Open roles include creative director and associate editorial director.
Coleman commented: "Gareth makes ideas worth talking about. He's an incredibly talented creative who has delivered culturally-led work across every form of media for the world's biggest brands. As our first-ever creative hire, he impressed from day one and has been flying on an upward trajectory through the agency ever since. He's hugely well-liked and respected here both in the UK and globally and I have no doubt that his vision will place We Are Social at the centre of the evolution of marketing."
Leeding added: "We Are Social's biggest and most impactful pieces of work over the last decade are ideas that are built on a human insight, that understand the power of community and the nuances of culture. Social isn't about the platforms, it's all about the people. That's the starting point for us, our biggest point of difference.
"Our vision is to deliver ideas worth talking about, that you remember in 1o years' time. Ideas like Pogba x Stormzy that have cultural importance and are ownable, or can change the world for the better. The most crucial part of this all is having the team we need to make this happen – those who can create ideas people genuinely want to talk about. Anyone who wants to do this for some of the most exciting brands globally should get in touch."
Source: We Are Social