We Are Social has bolstered its strategy offering with two key promotions. Mobbie Nazir will move to the position of global chief strategy officer, while Harvey Cossell moves into the chief strategy officer role in the UK.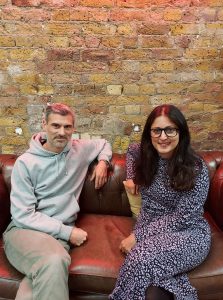 In her new role, Nazir, who has been with We Are Social for more than seven years, will be charged with business strategy and growth among global clients, as well as building up the agency's strategic and insights capabilities across the network. She will continue to report to Jim Coleman, We Are Social UK's chief executive officer, and will work also closely with Nathan McDonald, the agency's co-founder and group chief executive officer.
In her time at We Are Social Nazir has developed the agency's strategic product offering to ensure the agency remains at the forefront of evolving client needs and industry developments. She played a leading role in the development and launch of the agency's new cultural insights products and gaming offering and was instrumental in the creation of the agency's Diversity & Inclusion Charter for Change, which was named the best global D&I initiative at Campaign's 2021 Agency of the Year Awards.
Cossell, who joined We Are Social in 2016 as Head of Strategy, will take on an expanded role, leading the charge on how to future-proof the UK business while highlighting strategic opportunities for clients.
Working closely with Nazir and Coleman, Cossell will continue to lead his teams and clients and develop the business's focus on building the media and distribution offering in the UK. He will work to continue to raise the profile of We Are Social's strategic expertise and will also be a key member in the ongoing discussions around how to future-proof the business.
Mobbie Nazir said: "There is never a dull moment working at We Are Social. Over the past seven years I've led and been involved in countless exciting projects both in the UK and globally, working with incredible clients and really pushing the boundaries of social creativity. To now be officially taking that out to the wider network is hugely exciting for me, both personally and professionally.
"We recently hit the milestone of 1000 people in the business – that's 1000 different people bringing their energy, ideas and diversity to the work we do. I want to tap into that and set the standard for our strategy and R&I offering, connecting with people across every market to deliver innovative, ground-breaking ideas for clients."
Harvey Cossell said: "If the new year is all about embarking on new challenges then it doesn't get more exciting than this. The strategy team we have here at We Are Social is second to none – they are an incredible bunch of smart, engaged and hugely motivated people, and to be asked to lead them as CSO is a fantastic opportunity.
"I want to continue to develop this strategic prowess as we continue to unlock the potential of culturally-led brand thinking for our clients, and build on Mobbie's legacy as we go into 2022 and beyond."

Jim Coleman, CEO, We Are Social UK, said: "Having two such brilliant strategic minds as Mobbie and Harvey under one roof seems too good to be true. Together they bring untold value to our strategic offering, globally and domestically, and these promotions are both very well deserved. 
"Mobbie is now officially stepping into the global role she has been care-taking for some time, while Harvey is taking over her UK responsibilities which, being the unstoppable force he is, I know will come naturally to him. 
"These promotions fortify We Are Social's role as a strategic powerhouse and I am incredibly proud to be going into 2022 with Mobbie and Harvey at the helm."
Source: We Are Social