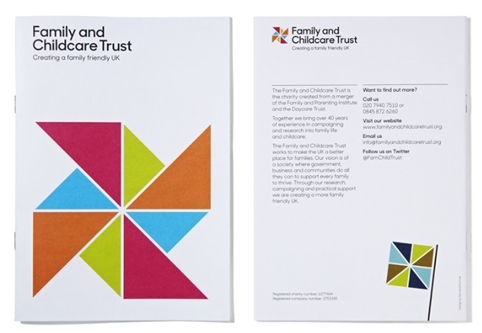 Colourful Design Strategy has created the identity for new charity the Family and Childcare Trust, basing it on a pin-wheel – a 'positive symbol of childhood'.
The new charity has been formed following a merger of the Family and Parenting Institute and the Daycare Trust.
Colourful Design Strategy is a new consultancy set up by Emily Penny, formerly brand planner at Together Design, working with her husband Stuart Penny, formerly of Foolproof/Flow Interactive.
The identity's shape is intended to represent different family structures, and the pinwheel mark provides a starting point for a graphic language that can be used throughout the branding.
Emily Penny says, 'The project was all about combining gravitas and charm in an identity that needs to work across different channels, audiences and initiatives. The aim was to stand out in the sector as a dynamic and modern brand.'
Colourful has worked on the new identity, website holding page and print materials and will advise on further brand applications.