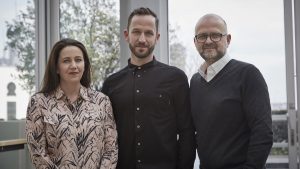 RAPP UK has appointed Al Mackie as Chief Creative Officer, a newly created role. Alongside Chris Freeland, CEO, and Shiona McDougall, SVP Strategy, Mackie will spearhead the agency's creative offering to bring clients a unique blend of marketing science and stand-out creative.
Mackie joins RAPP from Rapier where he served as Executive Creative Director since 2015, working with clients including TalkTalk, NatWest, EasyHotels and Adidas. Prior to that, he was Creative Director at LIDA where he led campaigns for O2, Compare the Market, Land Rover, IKEA and Virgin Holidays. He also spent a year in Australia setting up LIDA's first overseas shop. Mackie's experience also includes roles at Partners Andrew Aldridge and Harrison Troughton Wunderman.
"Al could not be a better choice to lead our creative offering. His passion for the work, combined with his natural desire to fuse creativity with data intelligence and marketing science, give him the edge that we need," said Freeland. "I'm incredibly excited that he is joining RAPP at such a pivotal time – not just as we continue to raise the bar creatively across our client portfolio, but also helping us continue to impress on the new business circuit."
Mackie is a proven talent with an impressive number of awards to his name, although he's the first to point out that he firmly believes success follows great teams.
Mackie said, "RAPP has always been an agency to watch, even more so in the age of marketing sciences and technology. Its future-focused capabilities enable tailored, effective work that talks directly to the customers that brands want to influence. Combine that with a strong leadership team and an impressive client roster, and you have an enviable workplace. I can't wait to get stuck in."
Source:Â RAPP UK