ALDI SÜD and ALDI Nord in partnership with McCann Germany launched a joint TVC to thank their more than 83,500 employees, who are making extraordinary efforts in the current crisis, calling for unity and support. The TVC's unusual style is adapted to the new Corona-reality: selfie videos of employees in ALDI stores and hundreds of customers at home. More than a dozen initiatives are part of the integrated campaign #gemeinsamgehtalles on all channels, developed by McCann Germany. 
In a joint TV spot, ALDI SÜD and ALDI Nord show how their employees stand up for each other and stick together as a team to continuously supply Germany with all necessary goods. In their personal video messages, which they shot themselves at short notice, the employees, as well as customers and supporters from other sectors – including a doctor – report on why they are committed and who they are currently working for. The TVC is part of an integrated brand campaign developed by McCann Germany.
"At ALDI we work together to ensure that you are provided with everything you need," this is how the new TV- and Online-spots begin. In addition to the ALDI employees in the warehouses and branches of the discounter, the spot focuses on the 82.7 million Germans who continue to be there for each other despite the corona crisis, social distancing and confinement measures.
In these challenging times, the employees of ALDI are particularly banding together. "Our teams in our supermarkets are currently achieving great things. We are infinitely grateful for it," says Sabine Zantis, Managing Director Marketing and Communications at ALDI Nord.
"We would like to take this opportunity to thank them all. At the same time, we would like to share the broad support of the population, which is currently reaching us through all channels. In addition, we also encourage people to stick together, especially now, and offer help to those who need it most," says Christian Göbel, Director Marketing Strategy at ALDI SÜD.
"Our integrated campaign #gemeinsamgehtalles motivates Germany to defy the crisis. We have developed different initiatives to underline ALDI's claim to always be there for its customers and communicate that we all have the chance to help if we stick together. This is the most comprehensive campaign for all channels and touchpoints that we have ever launched in such a short time," says Sabine Bülow, Executive Client Service Director, McCann Germany.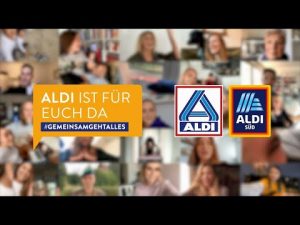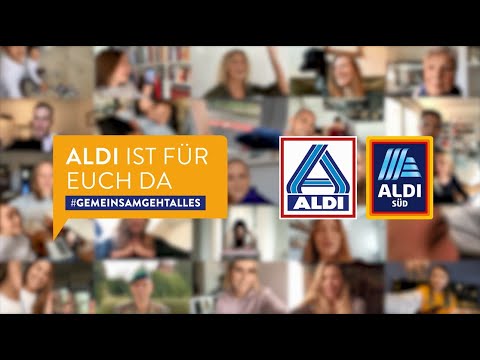 Under the motto #gemeinsamgehtalles, the TVC calls on all Germans to get involved via social media. The TV spot is part of the integrated campaign #gemeinsamgehtalles developed by McCann Germany and launched only a day after the Federal Government in Germany announced significant restrictions to public life due to the Corona-virus outbreak. The campaign consists of a platform that unites all measures, such as an information campaign for ALDI customers, ALDI's support for charitable neighborhood initiatives, partnering with McDonald's on behalf of their unemployed workers as well as the extended and gratuitous telecom services by ALDI TALK in Germany during the Corona-crisis.
Source: McCann