Bless This House' star Sally Geeson is spearheading a major national television advertising campaign for Anglian Home Improvements.
The much loved comedy actress is the face of Anglian's TV campaign 'The Dream Is On', which launched on 1 May and will be running for the rest of the year.
Focusing on key Anglian products including conservatories, orangeries, windows and double glazing, the campaign is an important drive by Anglian and firmly embraces the enduring British love affair with the home.
Sally Geeson can speak with first-hand knowledge about the quality of Anglian's products and customer care after the company recently fitted 11 new windows and a door at her Surrey home.
She was so impressed by the products and the work of the installation team that she approached Anglian directly to explain she would be very happy to endorse them.
"I was delighted with the work. Even my neighbours were impressed. Since then three other people in my road have had Anglian carry out work for them. I got in touch with the company to let them know about how well things had gone. They are a wonderful company with lovely products and I am really very excited that they have since asked me to become a brand ambassador."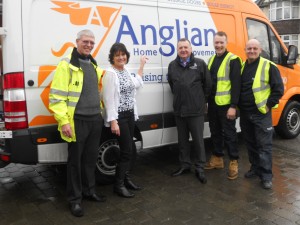 The TV campaign tops a remarkable return by Sally Geeson who this year launched her own website attracting more than 100,000 hits in eight weeks, appeared on a BBC2 tribute to the late Sid James, and has now been chosen as an Anglian Brand Ambassador.
Anglian Marketing Director Martin Troughton says, "When Sally approached us we realised what a wonderful opportunity this was. Because she was a satisfied customer first, it gives her genuine authority to represent us because she can speak with real knowledge of our company and its products.
"Through her role in Bless This House, Sally has an iconic connection to everything British people cherish about traditional home life. All of this makes her a perfect fit for our company as she will really resonate with our core target audience."
In Bless This House, Sally played the part of Sally Abbott, the bubbly daughter of Sid James. The 70's sitcom was a huge ratings success and watched by millions of people who loved its blend of good natured fun and down to earth family life. Dedicated fans still talk warmly of this being a 'Golden Era' of television.
As part of her new role as an Anglian Ambassador, Sally recently took part in a series of radio interviews following a survey commissioned by Anglian that demonstrated the astonishing importance of the British desire for home improvement.
The survey found that despite the ongoing economic downturn, one in four people carry out improvements several times a year, the same number aspire to having a conservatory fitted and half of us want a new kitchen or bathroom.
Established in 1966, Anglian Home Improvements is the UK's biggest double glazing window, door and conservatory specialist. With almost 50 years' experience, Anglian offers an extensive range of home improvement products, including double glazing windows and doors, Rooftrim, conservatories, orangeries, driveways, solar products and garage conversions.