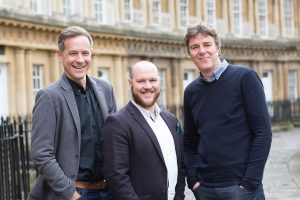 Armadillo CRM, the CRM specialist agency which works with brands such as McDonald's, hotels.com and Disney, announces a management buy-out of the business. Chief executive officer, James Ray, executive chairman, Chris Thurling, and chief financial officer, Andy Brown all take a stake in the company in its 25th anniversary year.
Based in Bath and with a global client base, Armadillo CRM advises on and implements CRM strategies online and offline, for clients including McDonald's, Disney, hotels.com and Babyliss.
Following the buy-out, Armadillo CRM will be strengthening its team across the board, including investment in data and digital capabilities, as it targets growth of 100% over the next five years.
The 30-strong agency was founded in 1992, with Ray entering the business in 1996, being joined by Thurling, ex-3Sixty owner and Chair of Bristol Media, in 2012, and Brown in 2015. Early pioneers of CRM, Armadillo CRM has introduced CRM strategies to major brands over the past two decades and continues to work with a wide range of brands and sectors.
James Ray, Armadillo CRM chief executive officer, commented: "This is an exciting step for Armadillo CRM which will allow us to fulfil our tremendous potential. As experienced CRM specialists, we're trusted by some of the world's most successful brands, helping them exploit, protect and expand the value of their customer relationships. We now have the tools and expertise in place to scale up, whilst maintaining our essence as an agile, intuitive agency partner."
Chris Thurling, Armadillo CRM executive chairman, added: "I'm incredibly proud to add my name to Armadillo CRM. Under our new management structure we plan to grow, strengthen the team in key positions and deepen our expertise and capabilities in CRM, adding real value to our client base."
Source: Armadillo CRM