To celebrate Tesco's new store launch, BBH Dublin have launched a new piece of media – a bespoke projector – to make sure the whole neighbourhood knows.
Charlemont Square is a new Dublin development, in a neighbourhood with lots of footfall. But its new Tesco store is a little hard to find. So BBH Dublin developed an idea that's hard to miss – taking a traditional 48 sheet poster and projecting onto it.
With a copywriter on hand manning the keyboard, bespoke messages were sent via the billboard to unsuspecting passers-by. Each message was personally tailored, while pointing out the Tesco Express store close by.
Tesco is all about talking to people on a human level, and know that everyone has different needs. The poster site allowed them to talk to people as individuals, with something meaningful for everyone. Not only that, but the site was used to champion other local businesses such as pubs and takeaways, acknowledging their importance to the community.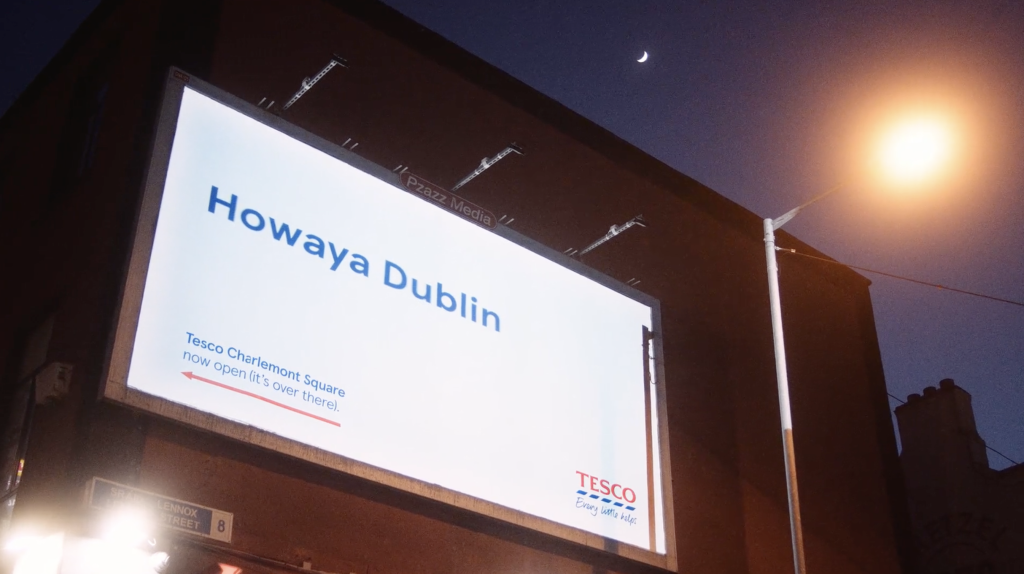 Tesco Ireland, Marketing Director Cathal Deavy said " We are really proud of our new Charlemont Square store, and because we are a little tucked away we wanted to have some fun with the challenge of letting our customers know exactly where we are. The video and projected message concept created for us by BBH perfectly encapsulates the beating heart of this wonderful and historic part of Dublin. We are open for business and are very excited to be a part of this thriving and vibrant community."
Sam Caren, Creative Lead at BBH Dublin said: "First impressions are important and they say you only get to make one. With this approach we get to make an impactful impression, multiple times, on multiple people, and have a ton of fun doing it while answering the brief of letting people know the new store's location. Just because something is functional and hard working doesn't mean it has to be boring. ".
Tesco Charlemont Square opened on the weekend of the 24th.
Source: BBH Dublin