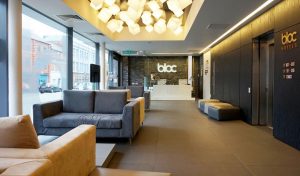 With 18 months to go before the opening of its Grand Central Tower in Birmingham, BLOC Hotels announces a strategic and creative partnership with Start Design Consultancy to create a market-leading brand development programme.
As brand consultancy partners, Start Design will work closely with the premium, short-stay hotel chain to redefine the hotel experience for a new generation of travellers. The brand development programme will occur in tandem to BLOC Hotels preparing for an ambitious, nationwide expansion, of which the next hotel will be a newly built, 23-floor tower in Birmingham.
The new brand experience will continue the hotel chain's ethos of putting design thinking at the heart of everything it does – from its sleek mobile booking, check-in and room control platforms, to calming, intelligent spatial design.
Founded in 2010, BLOC set out to challenge the idea that compact, short-stay hotels were, by nature, a second-tier option for travelers unwilling to pay exorbitant rates for high-quality, luxury level accommodation.
Since its launch, demand for BLOC and its approach to hospitality has skyrocketed, especially among short stay travellers more interested in exploring cities than spending hours in hotel rooms. Today, it operates hotels in Gatwick and Birmingham.
"We've spent years travelling and staying at short-stay hotels around the world, and found many, quite frankly, well below expectations, at any price," says Rob Morgan, CEO and founder.
"We're working to improve the model for guests, cities and communities. The market is long overdue a refresh and with it the experience. For us, design has always been a lens through which to address that. The bed and quality of sleep are obviously of central importance. But, as we see it, there's so much more to a 'great short stay'. The old bed and kettle model doesn't work for today's travellers. With better design, you can get the best out of your locations, spaces, employees and manufacturing processes. Since our first meeting with Start Design, they have echoed this commitment to design. It's very clearly in their DNA, and we're thrilled to be working with them going forward as we bring our hotels and our brand to travellers across the UK," continues Rob.
Darren Whittingham, Start Design Group CCO adds; "It's a real pleasure partnering with the BLOC Hotels leadership team to help define and strengthen this ethos. Their unshakeable belief that design thinking is what truly shapes and differentiates a business, it's product and service experience – and is at the core of how we operate as a consultancy. Great design, sets great brands apart – improving the quality of the experience for every guest who's part of it. BLOC Hotels is a brand of the future and one to watch."
Source: Start Design Consultancy