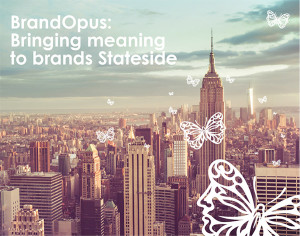 Global brand design specialist, BrandOpus announces the opening of its first US office, based just north of Flatiron, New York.
The US launch signals further international developments for the independent agency as it enters its 9th year of trading. Already renowned for winning an industry-leading collection of commercial effectiveness awards, the brand design agency is now set to expand its existing client portfolio, Stateside.
BrandOpus' proposition focuses on fusing a unique blend of the latest principles on how consumers actually make decisions, coupled with award-winning creativity to design brands with real meaning and maximize commercial impact.
"We believe that designing resilient brands requires inherently strong brand identities, which leads to significant brand impact, and ultimately commercial success," said Nir Wegrzyn, CEO of BrandOpus. "Brand-level narratives that carry meaning engage with the consumer emotionally, creating brand loyalists and repeat custom."
"We are extremely excited about expanding into the US market" says Louise De Ste. Croix, Client Development Director and Partner, BrandOpus, "We have a number of existing global clients who are based in New York, which makes this a logical step, but we're also looking forward to working with new teams and growing exciting new partnerships."
"BrandOpus is ideal for the US market" says Ali Dawkins, heading up BrandOpus New York. "The agency brings a fresh approach to brand thinking that just hasn't been seen much here before. It's about time we, as an industry, evolved our approach, and BrandOpus are leading that change. We're excited to see what the future holds."
As part of the US launch, BrandOpus' CEO Nir Wegrzyn will be a keynote speaker at FUSE 2016 in Miami on Wednesday April 6th 2016, providing insights on creating brand identities that transform brand performance through the use of Metaphors.