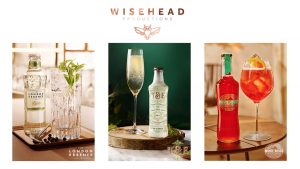 Britvic-backed incubator WiseHead Productions is delighted to announce the appointment of Leagas Delaney as its lead creative agency and Splendid Communications as its consumer PR agency. The appointments have been made following a competitive pitch led by Britvic with support from agency intelligence provider Creativebrief.
WiseHead Productions, with a portfolio of premium mixers and zero-proof drinks, was set up by Britvic to create drinks for adults who seek quality drinking experiences, and has developed brands including London Essence Company, Thomas & Evans and Monte Rosso. 
Jonathan Gatward, Global Category and Capability Director for Britvic said: "We were impressed with both Leagas Delaney and Splendid's understanding of our business' goals, as well as their creative and integrated strategic approach. I am confident in their ability to deliver exceptional results for the WiseHead Productions brands." 
Fergus Hay, CEO of Leagas Delaney, added: "The entrepreneurial and pioneering spirit of Britvic's WiseHead Productions is one that matched well with our own, while the high quality of the products reflects the business' commitment to excellence. These are values that will enable us to produce fantastic work together and create an advantage for WiseHead's brands in a market driven by the increasingly high expectations of consumers."
Alec Samways, CEO & Head of Creative Strategy at Splendid communications said: "We're delighted to be working with WiseHead and to be providing a breadth of Splendid Communications capabilities in partnership with such an exciting business. The long-term, zero-proof and premium mixer business ambition is hugely exciting, and the portfolio is already truly impressive. We can't wait to bring these products to the audience they deserve."
Leagas Delaney and Splendid's work for WiseHead Productions will kick off in Autumn 2018. VCCP and Saatchi & Saatchi will be unaffected by the appointment.
The competitive pitch process was conducted in a bold new format by Creativebrief. After initial chemistry tests, WiseHead Productions worked with Leagas Delaney on a four-week trial basis on a 'try before you buy' model. Both parties considered the relationship a successful one, leading WiseHead Productions to appoint the agency as the global creative lead.
WiseHead Productions was established in 2016 as an incubator company backed by Britvic, which gives WiseHead Productions all the entrepreneurial freedom of a start-up with the financial support of an established FTSE 250.
Source: Creativebrief