Cadbury launches a new twist on its famous Wispa Gold with limited-edition Wispa Gold Hazelnut Flavour bar which fans can 'invest' in.
Campaign marks the first creative launch for Cadbury Wispa Gold for nearly two decades 
Chocolate fans can invest in 'A New Type of Gold' by purchasing a #WispaGoldHF 'share'*, watch the value fluctuate and get paid out in the limited-edition chocolate bars before they even hit the shelves!
Cadbury and global agency of record, VCCP London, together with VCCP CX launch Wispa Gold Hazelnut to the UK market with an integrated brand campaign 'A New Type of Gold.' Elevating the iconic chocolate bar to rare commodity status, the campaign places the chocolate bar on the same viral platform as crypto, stocks, silver and of course gold. 'A New Type of Gold' will roll out across social, press and PR. The campaign will allow chocolate fans to invest in 'A New Type of Gold', offering the public the chance to secure a coveted #WispaGoldHF share giving them the chance to be paid out in multiple Wispa Gold Hazelnut Flavour bars.
Exclusively breaking on Wispa News, a live stream on Twitter, chocolate fans desperate to get their hand on the golden payout, can buy a #WispaGoldHF 'share'* in Cadbury's 'New Type Of Gold.' Aspiring chocolate traders will be able to watch the value fluctuate and receive daily updates on their shares* live and direct from the @CadburyUK Twitter account.
Fans will be able to get their hands on the limited edition Hazelnut flavour product, all before they hit the UK shelves. The final share* value represents the number of chocolate bars Wispa Gold fans will receive. 
Created to entice a younger audience of wannabe Wispa Gold Hazelnut shareholders, the campaign is supported by Niko Omilana, internet YouTube sensation, now turned political campaigner, to inject a new youthful personality to Wispa Gold and head up the campaign.
The new Hazelnut flavour represents a modern makeover and the brand's first injection of youth, spirit and personality, whilst heroing a brand new product. Reconnecting with Wispa Gold's original identity, the integrated campaign reinvents the wonderful essence that helped build the brand into what it is today.
Joshua Collier, Junior Brand Manager at Cadbury said: "We've branded our Wispa Gold Hazelnut Flavour bar our 'New Type of Gold' due to its rarity and delicious hazelnut-flavoured caramel filling. Just like real gold, we've decided to turn our bars into a new (and fun) commodity, giving our fans the chance to receive a very tasty dividend of multiple bars of the limited-edition chocolate bar to share* with their friends and family.
"This bar has been 18 months in the making and we hope Wispa lovers will enjoy engaging in its entertaining launch."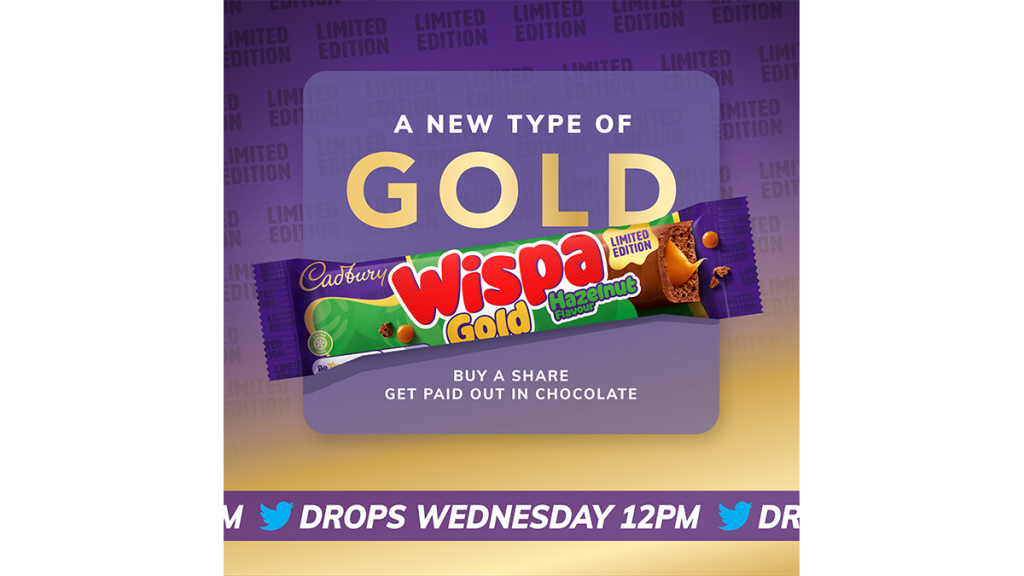 Angus Vine, Creative Director from VCCP London added: 'It's been a pleasure to bring some new life into a brand as iconic in British culture as Wispa. Our campaign is great testament to the challenger style work we like making at VCCP. Taking more of a creative risk in our approach, by tapping into the recent craze that is crypto, trading and just the general invasion of traditionally stuffy financial worlds by our younger audience. It would have been a lot easier to run a traditional campaign that just raised awareness for our new bar, but it wouldn't have been as fun.
To support the campaign, media was also purchased in traditional financial press spots, such as The Sunday Telegraph Money section, designed to tie the activation roll out to the overarching creative of 'A New Type of Gold.' All media has been planned and executed by Carat.
'A New Type of Gold' will run in the UK from Wednesday 25th August across Twitter. PR will be supported by Golin.
Each #WispaGoldHF 'share'* will cost 69p and will require the hopeful 'shareholder'* to have an active Twitter account. Full instructions on how to buy a #WispaGoldHF 'share'* can be found on the Cadbury Twitter feed (@CadburyUK).
Wispa Gold Hazelnut Flavour will be available to buy from https://www.cadburygiftsdirect.co.uk/ and all major supermarkets from Monday 6th September 2021, with a RRP of 69p**. The bars are limited-edition so put the date in the diary as once they're gone, they're gone!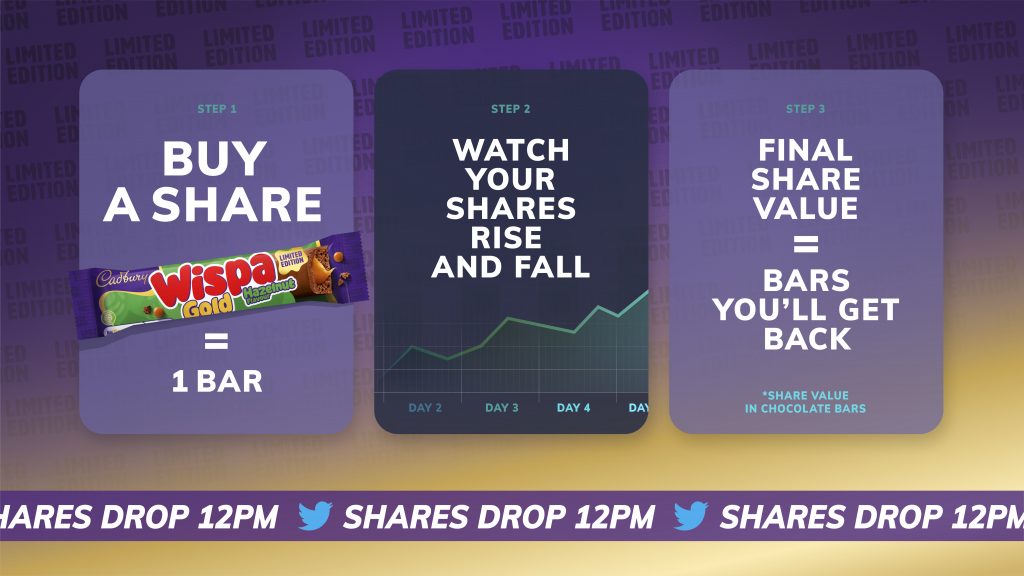 Source: VCCP