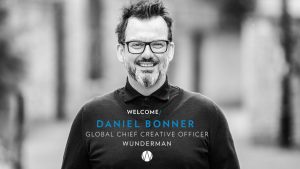 Wunderman is appointing former SapientRazorfish creative leader Daniel Bonner as its new global chief creative officer effective March 5.
Bonner, who left his post of global creative chief at SapientRazorfish last summer, is succeeding Lincoln Bjorkman. A Wunderman spokeswoman said that Bjorkman is leaving to explore new opportunities and is helping Bonner make a smooth transition to the role.
As global chief creative officer, Bonner will lead Wunderman's creative teams across 200 offices in 70 countries for clients such as BT Group, Microsoft, Shell and T-Mobile. He will report to Global CEO Mark Read and will remain based in London, but will travel frequently to the U.S.
One of the main reasons Bonner says he was attracted to Wunderman is because the integration of creativity, data and technology is at the heart of everything the agency does.
"Data can liberate creativity, not constrain it," he told Ad Age. The industry, he adds, isn't here to "create art," but to figure out "meaningful ways to connect business with their customers" and achieve results, which is a big focus for Wunderman.
In addition to helping shape the culture within Wunderman and attracting and retaining talent, Bonner says he plans on being "outward-facing" and very involved with clients.
Bonner left Publicis Groupe's SapientRazorfish two months after the holding company announced that it would take a year off from awards programs or promotional investments, including the industry's biggest annual festival in Cannes, to shift its spend toward a new AI-powered professional assistant platform.
"I think awards are clearly important to Wunderman and to WPP and it's important for clients and for talent to have their work recognised," says Bonner. However, he adds that he wants to take a "measured approach" to entering awards so that Wunderman only puts forward the strongest work that shows the agency's best capabilities.
During Bonner's time at SapientRazorfish, he worked on global brands, such as Audi, McDonalds, Mercedes Benz, Nike and Unilever. Before that, he was chief creative officer of AKQA in Europe for 14 years, working on clients like BMW, Diageo, Microsoft, Orange and Samsung.
Source: Ad Age