As lockdown eases and stores begin re-opening, sporting retailer Decathlon is launching its first-ever integrated campaign, backed by a brand-new marketing strategy. The "Let's Play UK" campaign was designed to speak to families; democratising sport, going beyond performance and showing the fun side by, quite literally, bringing sporting goods to life. 
The campaign was created by Decathlon's newly appointed agencies Forever Beta and Goodstuff. Following an informal pitch in January, Goodstuff earned the media planning and buying business, while Forever Beta became creative and strategic lead following a five-way pitch in February.
The creative features various pieces of animated sports equipment, such as a bike and a tent breaking into song as the shop turns its light off, highlighting their desire to be used and emphasising how much more sport can now be played as lockdown eases. The campaign features a re-imagining of Cyndi Lauper's iconic track "Girls Just Want To Have Fun", "Sports Just Want To Have Fun", delivering a fun message the whole family can enjoy whilst building brand awareness. The work reflects the unique range of products that are available, which stands at over 45,000 items of sports clothing and equipment and more than 70 sports to discover in store.
Goodstuff handled the planning and buying of Decathlon's first ever ATL campaign with the aim of making sport accessible to families as lockdown eases and stores begin re-opening. They are testing a regional approach with their planning and the campaign launches on 24th April with an ITV deal across select regions and will run throughout summer 2021. The spot will launch during Alan Carr's Epic Gameshow. The campaign will be further supported by BVOD, OOH & YouTube.
PR Agency One, Decathlon's retained PR agency of 3 years, led on the corporate brand story supporting the national Let's Play UK ad campaign. Communicating Europe's number one sports retailer's campaign to help reactivate the 83% of Brits who have had activity levels disrupted by Covid. Integrated PR specialists, PR Agency One, further amplified the Let's Play UK campaign by including integral campaign characters and tag lines into the core summer-long planned PR activity aimed at Decathlon's target audience of families, campers, sports enthusiasts and UK adults of all ages seeking to become more physically active and healthy. 
Chris Gilroy, Marketing Communications Director at Decathlon said: "Let's Play UK is our rallying cry across the UK, announcing that Decathlon is here and we are your number 1 destination to have fun this summer!" 
"This is a really important time for Decathlon, with over 90% of UK adults having post pandemic health and fitness goals*. Our job is to help inspire them of the benefits of sport. Our unique range of over 70 sports instore and online, ensures we have something for everyone."
This campaign brings to life our brand and our offering like never before. It's fun, it's memorable and has great energy – It's not your typical sports brand campaign. This is Decathlon."
"Let's Play UK."
Harry Moss, Group Planning Director at Goodstuff added: "This past year, sport and exercise have been invaluable to so many different people. As the days get warmer and Britain comes out of lockdown, we're excited to help unlock the UK's best sporting secret. A destination for everyone's sporting needs; be that your first tennis racket or camping equipment for the family staycation. This multi-media campaign marks Decathlon's largest investment to date, a campaign that will be full of fun, joy and positivity!"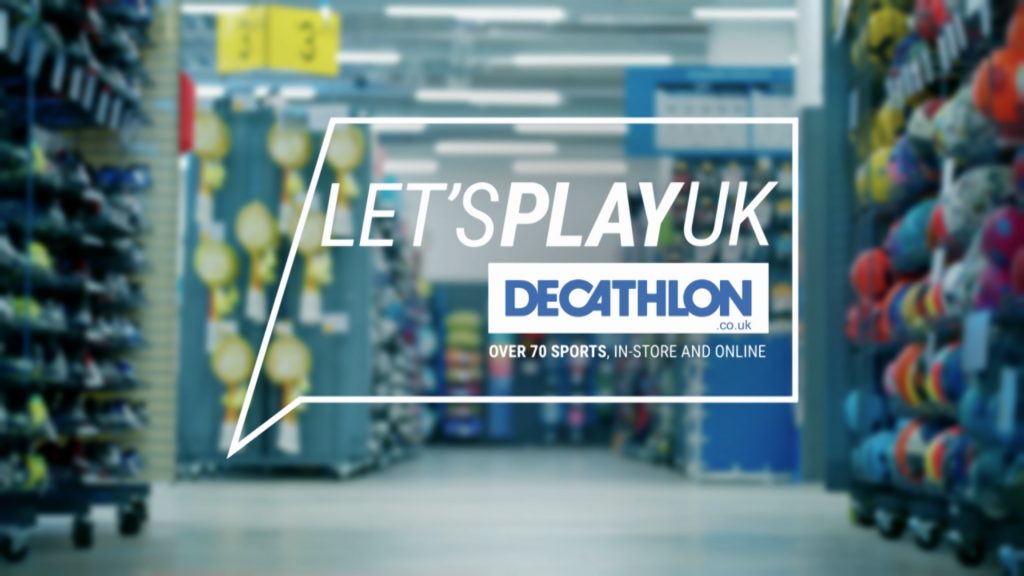 Paulo Areas Chief Creative Officer at Forever Beta added: "Sports and leisure has been crucial to us during this challenging time, and as the world starts to open consumers are not going to forget that this a key form of escapism and fun pastime. The work reflects the customer journey in a humorous and entertaining way, we wanted to keep the sense of joy from sports throughout the work but also communicate that Decathlon offers a huge amount of quality sporting goods." 
Source: Forever Beta