This month, Havas reprises Durex's Ladies, Let's Lube campaign with a cheeky nod to everyone whose January is a bit drier than expected.
The tactical press, social and OOH ad injects some double answers into the concept of Dry January, as the question 'Dry Jan?' is answered simply with a bottle of Durex Naturals Intimate Gel and a call to action: Ladies, Let's Lube.
It marks a light-hearted follow up to last year's TV ad, a playfully knowing, fourth wall-breaking film from Fleabag and Killing Eve director Harry Bradbeer, which aimed to de-stigmatize female sexual discomfort and unlock better sex for everyone.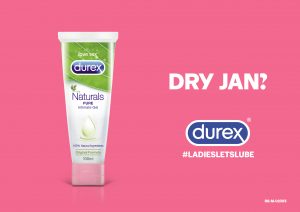 Discomfort during sex is a familiar feeling for many women, but few talk about it and less than 50% actually do something about it. That means that more than half of women are putting up with uncomfortable sex – despite the fact that women naturally feel a bit drier down there for two-thirds of their cycle.
In fact, nine out of ten women who use lube say that sex feels better – and, as the Ladies, Let's Lube campaign points out, it's totally natural to reach for the lube on those drier days.
Kate Lloyd, creative at Havas London says: "As part of Durex's ongoing mission to normalize lube and help end uncomfortable sex, we thought we'd encourage people to get over any New Year blues with a little lube. While millions of Britons sign up to dry January, we want to remind them that sometimes it's better to be wetter."
Source: Havas London